SHELF LIFE: SHISEIDO FUTURE SOLUTION LX
Posted on October 15th 2017 by THEFASHIONGUITAR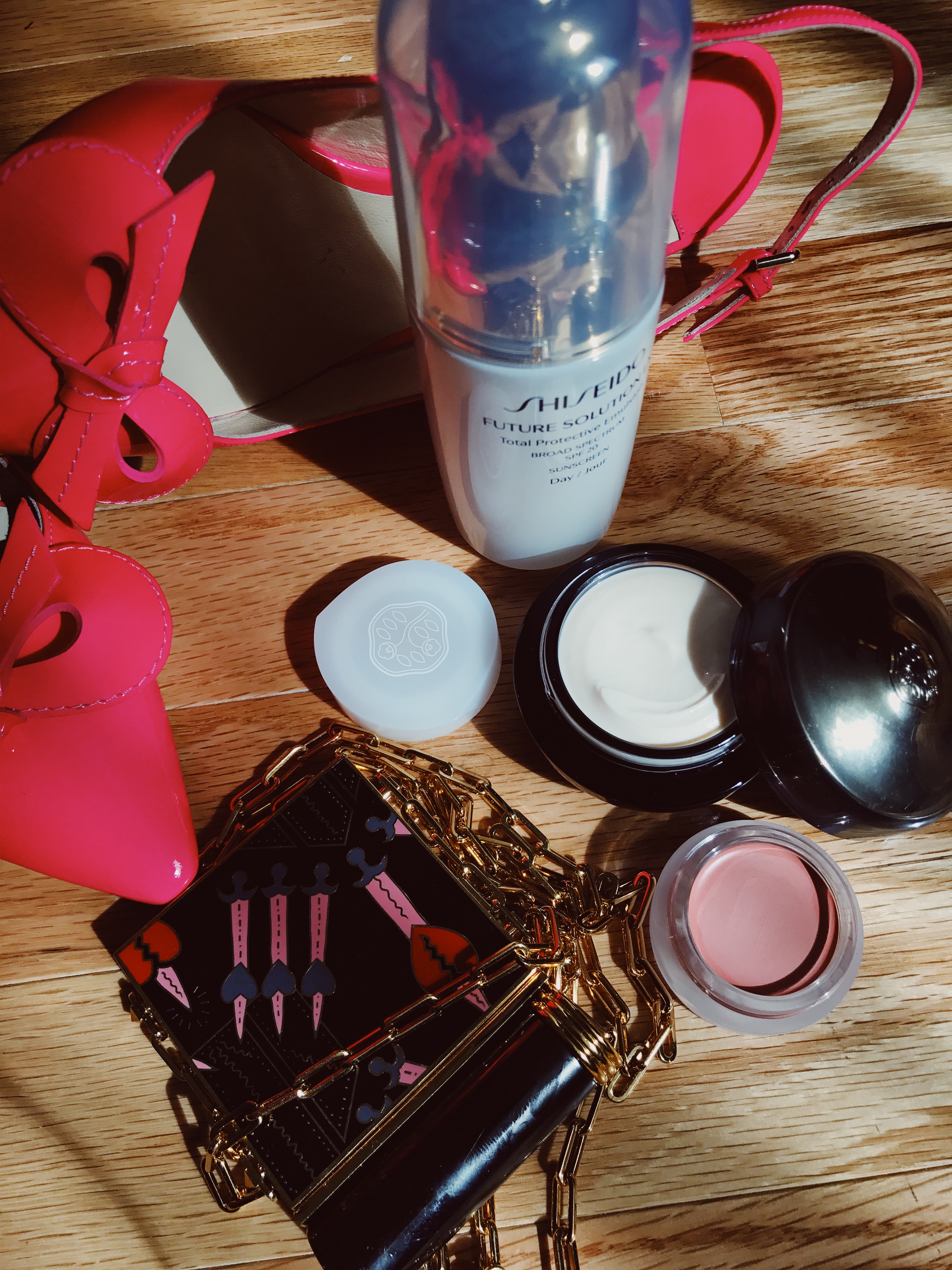 There are so many amazing beauty products that come in on a weekly basis, but only so many opportunities to share these with you. And with my Instagram being mostly fashion focussed, and Instastories passing by so quick, I felt I should be sharing this new Shiseido Future Solution LX line that I've tried last month here too. The four products that I received are the Shiseido Future Solution Lx Total Protective Emulsion Spf 20 Sunscreen, the Shiseido Future Solution Lx Eye & Lip Contour Regenerating Cream, the Shiseido Future Solution Lx Total Radiance Foundation Spf 20, and lastly, the most loved product by you on my Instastories: Shiseido Paperlight Cream Eye Color. Read here why I love this new product line, and why I think you should be trying it too…
I met the Shiseido skincare and beauty team in New York over summer. During our meeting – a press event with lots of delicious bits, happy people, and the presentation of the new product line – I had a "private skincare session" with one of Shiseido's experts and got introduced with their new Shiseido Future Solution LX line. What I loved most about the line was the eye & lip cream, but the foundation made it high on my wish list too. First and foremost that eye & lip combination because I believe, too, that our skin in those two areas – even though they might look so different – needs most care of our whole face. These parts of our skin get dry so easily, especially when getting older, during winter, and when traveling a lot. The cream is super rich, and that's good, but be prepared to have a feel of cream around your eyes throughout the day. It's the evidence of a good hydration, but it might also feel a bit odd, and give you the urge to keep on massaging it in… If you know what I mean.
The foundation is perfect for my skin because it's super light – as well as the tone, which makes it good for my Fall/Winter skin – and it feels like applying a daydream, yet it covers up uneven parts and redness. I have always red cheeks after my shower in the morning, so this is great to even things out. However, I did apply their day cream – the Protective emulsion with SPF 20 – under it, too. This one I'm not 100% sure about… It's not a cream, or emulsion, that I feel is right for my skin. It's too… I don't know how to explain… thin, yet rich for my taste in skincare. Under my eyes, I love the richness, over the rest of my face I like it rich, but it has to absorb.
Lastly, that cute pink cream, which I applied on my lips and eyes, but is officially a cream eye color. Though, I feel you can also use it on your cheeks. I love the creamy way of make-up, which gives a natural glow, rather than a cakey matte face.
I worked with Shiseido for an Instagram story, however, this blog post is officially not part of our collaboration, I was not paid to share the above with you. I share this because many of you requested more information on the products than I could give on Instagram. I hope you enjoyed!
PS. Don't forget to subscribe to my Youtube Channel!



YOUR THOUGHTS