EDITION HOTEL MIAMI
Posted on January 25th 2015 by THEFASHIONGUITAR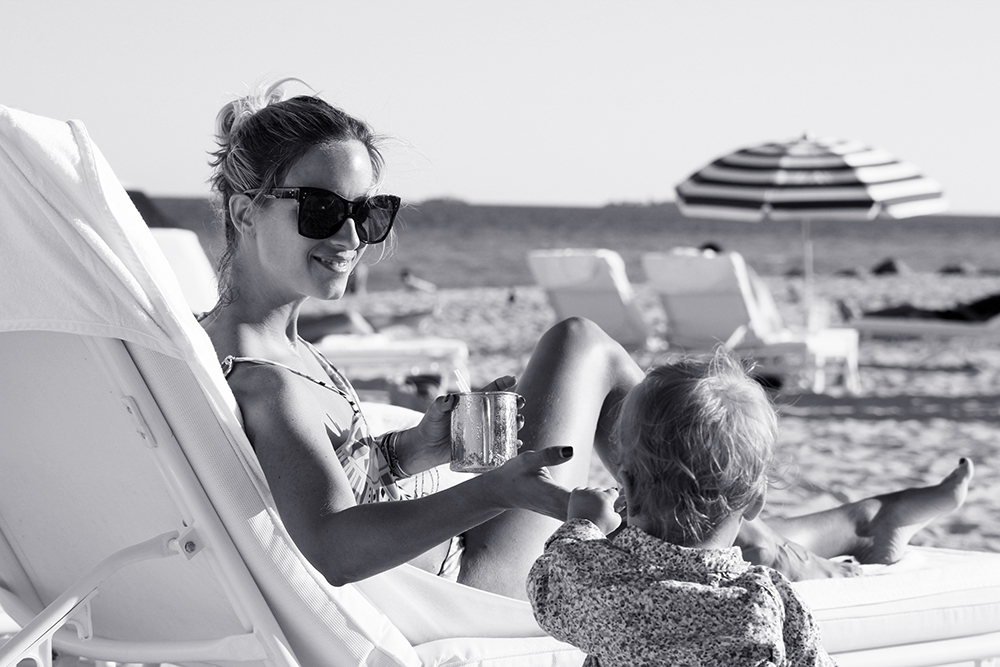 If you're looking for a comprehensive guide about "Miami with kids" I'm afraid I'll have to disappoint you, because that's not what you'll find here. I'm about to give you a little sneak peek in our perfect stay at the Miami Beach EDITION Hotel last December – as I also did about our stay in the London EDITION Hotel. Miami was the first getaway with our family since we've moved to New York. Obviously something which was on our agenda long before, but some health bumps in our road didn't let that happen. Anyway, just before Christmas we packed our suitcases and left for a warmer climate, we were off to Miami!
What I always love about going from a cold place to a warmer one is that moment you get off the plane. That warm blanket that wraps itself around you and gives you an instant smile on your face – and instant sweat attacks for us mommies with holding the kids, a million bags, and of course, your own stuff. Nonetheless, a great feeling. So after a quick flight of only two hours we were safe and sound in Miami and ready to check out the new Miami Beach EDITION Hotel, which opened only a month before. The hotel is located on Collins Avenue in Mid-Beach – between South Beach and North Beach – which they say is the historic heart of Miami Beach. It has the feeling of a boutique resort because of its spacious set-up, and a great retro vibe with the art-deco elements of architecture at the main building and some smaller parts at the pool-area. There are residential apartments, hotel suites, and beautifully minimalistic rooms. We stayed a couple of nights in the City View Double – which is ideal when you go with little kids because of the set-up, as you have one bed for you and your hubby, and one for the toddler. A baby bed can be provided by the hotel if necessary. The other few nights we stayed in a Standard King, which was a much brighter room because of the sea and coastline view. However, that room came with one King size bed, which obviously made that we had to sleep with James in-between us. Not a bad thing – I love it when the kids sleep with us – but there's no room for romance. Though, that's not really the case anyway when you sleep with your kids in the same bedroom. Anyway, we brought Stella's travel bed, which we prefer over all other travel beds, but as I said, the hotel can provide you with one too. The white interior is what made me love the rooms and the hotel in general. Also, since the hotel is so super new, it's all very modern and in perfect condition. Honestly, we did not have any complains about the room or whatsoever. We loved it, and they were both perfect to stay in with two little kids.
James and Stella loved the pool, I think because the water was nice and warm, and the steps were broad enough to play at safely. Next to the pool are plenty of sun beds, with umbrella's and a green area covered with trees, so definitely enough shade when your kids need to stay out of the sun. As said before, we were in a very in-between-seasons week, so we literally had the pool for ourselves. Only near the weekend some couples started to come in, but even then, it was very quite – which felt as such a luxury. The beach was James' high. The hotel has a huge sandpit with amazing beach toys for the little ones, and plenty of umbrellas to have them play safely in the shade. We couldn't get him away from it, so we mostly went there at the end of the day, when mommy and daddy had a little something to drink, and Stella and James enjoyed playing in the sand. Lovely sun-beds, canopies and umbrella's, all in beautiful navy and white, very chic. Great beach staff also, nothing was too much for them.
Restaurant-wise we've enjoyed the outside terrace of the Matador Room – a restaurant by Chef Jean-Georges Vongerichten which offers his distinctive modern interpretation of Latin cuisine influenced by Spanish, Caribbean and South American flavors – every night. We literally tried all dishes, and there was maybe one we weren't really excited about. Honestly. During the day we loved to get our lunch, and that of the kids, at Tropicale. I took either the Jerk Chicken sandwich or the kale salad with chicken, both so so good. The kids had things like turkey sandwiches and french fries without salt, or raw veggies and fruit. They liked it a lot, which we were so happy about because James is quite a picky eater. Market was great for breakfast, which you can eat in the restaurant or take-out to the beach – not all dishes, but surely your granola with yoghurt and coffee. Obviously with the kids it's better to sit down when you eat, so we didn't enjoy breakfast on the beach as much as we wanted – which we would have done every day if it were only Thomas and me. The pastries were a little daily treat, James loved the mini chocolate sprinkle donuts, and I still regret I didn't try the ice-cream bar with its delicious toppings… Oh and lastly, for the mommies and daddies, you will love the mini-bar in your room! Nobody does a mini-bar as the EDITION Hotels, they have all you ever wished for in a mini bar (see photos)…
There it is, all the things we loved about our stay at the Miami Beach EDITION Hotel. Questions?
Is it kids proof? Yes, if you make sure to go a little bit off-season I'm sure it's 100% kids proof. I mean seriously, none of the staff ever lifted an eyebrow to any of our kids-related request, they were all extremely nice to us and the kids, and overly helpful! Was there anything you didn't like? Yes, there was one thing, the music from the pool and the Matador Bar terrace were interfering with each other. You constantly heard both, which was super annoying. I hope they will do something about it. And did you guys leave the hotel while you were there? Not really, we did the board-walk a few times, but that was about it. We didn't need anything else while we were there. However, if we were going again, I would go for lunch at other places just to get to know what's out there. Would you recommend us going with kids? Yes, I think you will be sure of a great stay, in a beautiful environment, and with amazing staff. I can recommend this to everyone with or without kids!
YOUR THOUGHTS