FRONT ROW SNEAKERS
Posted on September 17th 2014 by THEFASHIONGUITAR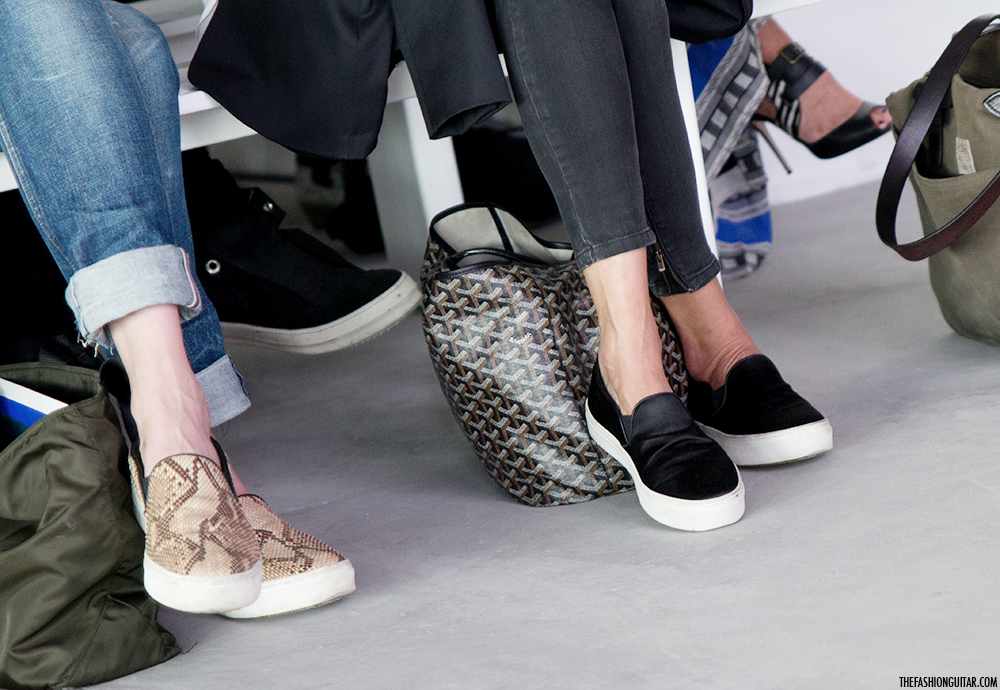 Front row these days: High heels made way for designer slip-ons. Hurray! I couldn't agree more with these ladies, although I still have big admiration for women who wear high heels every day, to every show… for a month!
I like to believe that the Anna Dello Russo's from this world are built for heels. They seem to wear them without any problems, ever. If you are from my world though, in which blisters rule, especially when you're wearing those new shoes you bought for Fashion Week, there has to be some tips and tricks involved. I still didn't come any further than 1. Wearing socks in heels and sandals – luckily this is an ongoing trend – and 2. prepare my feet with plasters, and stocking up my bag with plenty more in case of an emergency.
It might be Anna's steal life-motto – "when you get comfortable, you will never get the look" – that keeps her going, but I bet she has some serious tricks to avoid the "pain". If she were only sharing those with us… What are your secret anti-blisters-from-your-new-shoes-tricks?
Find an amazing selection of slip-ons – from Vans to Jimmy Choo – in my favorite online stores Net-a-Porter, Asos, Topshop, and MyTheresa!
YOUR THOUGHTS
Highlighted