THE BOYFRIEND SHIRT
Posted on April 25th 2014 by THEFASHIONGUITAR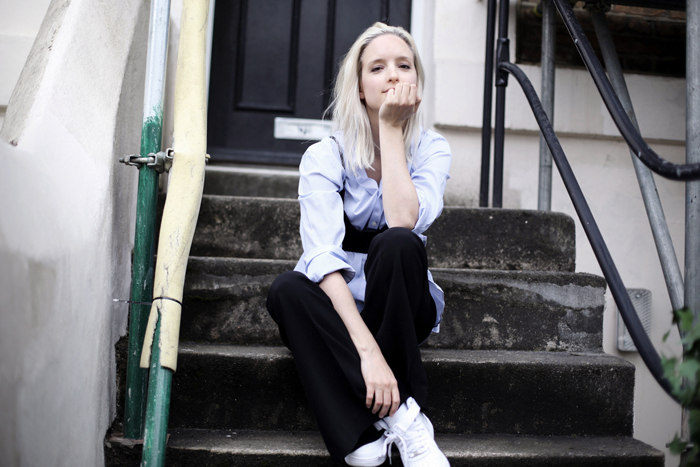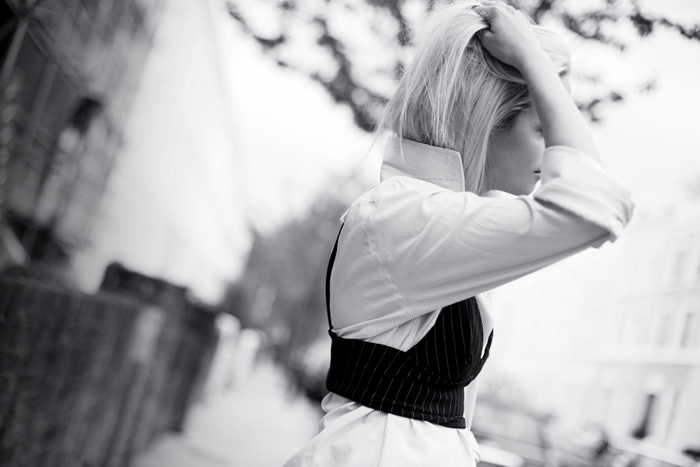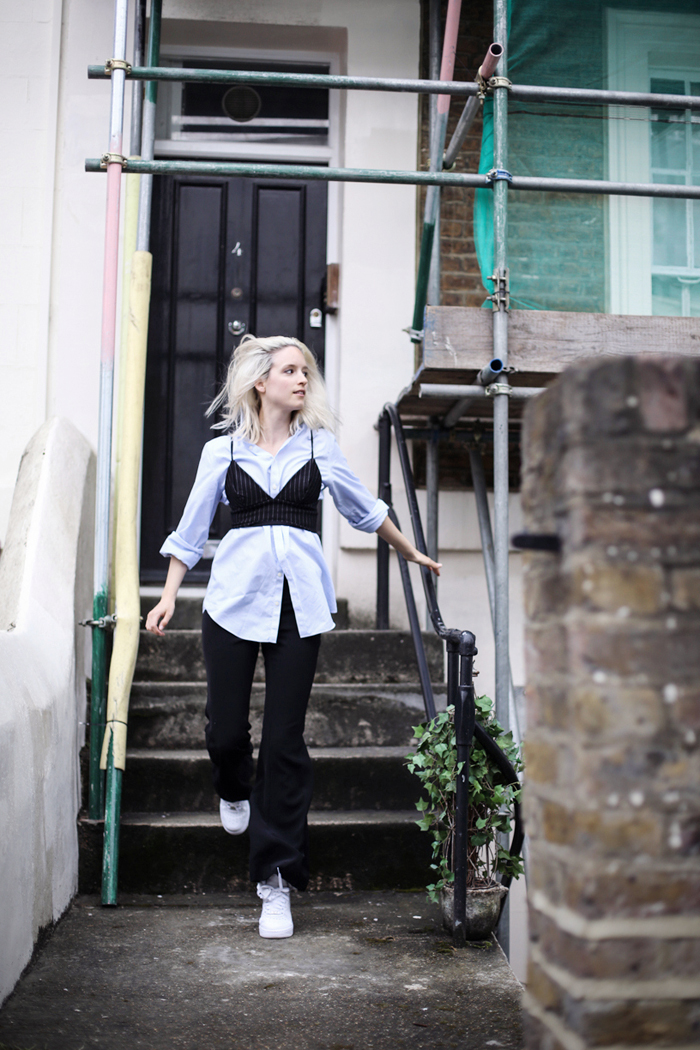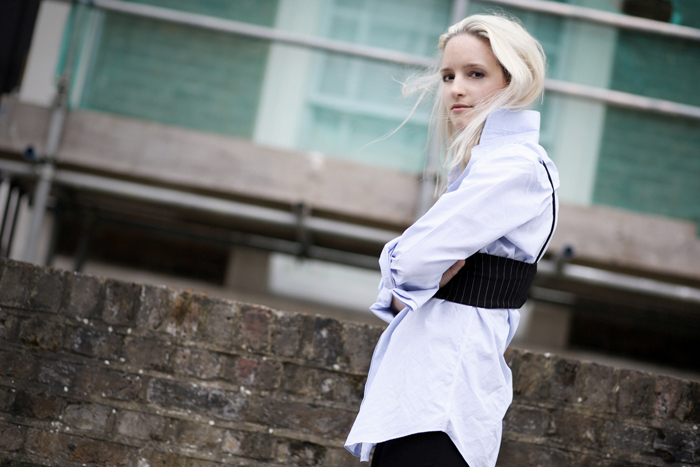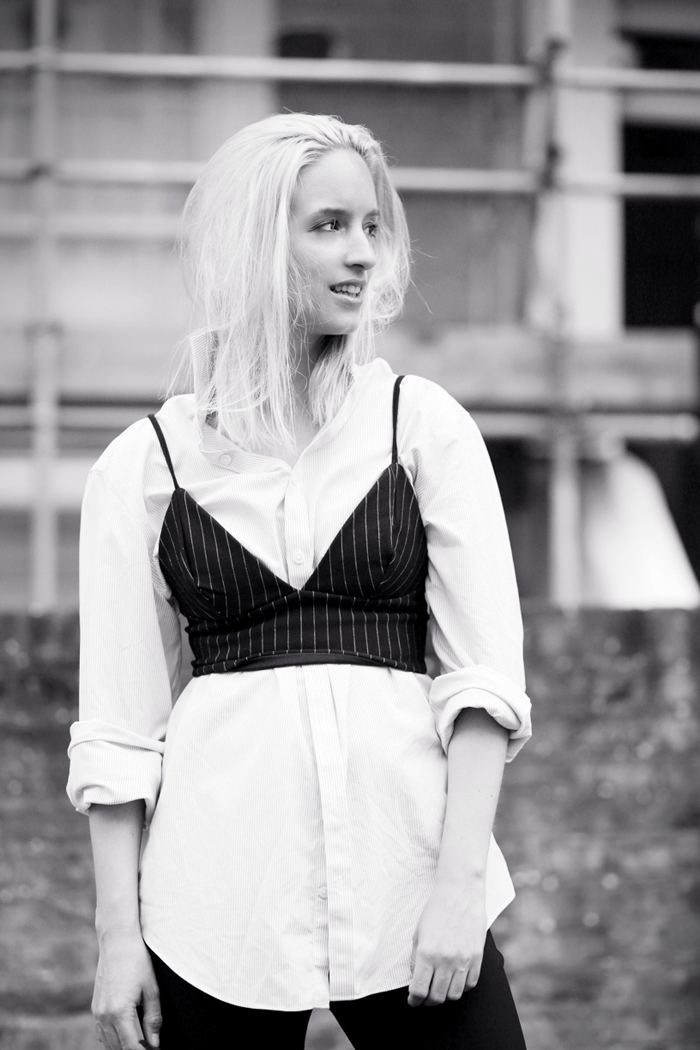 Etro men's shirt // H&M Trend pinstripe top (similar here) // H&M Trend trousers (similar here) // Nike Air Force 1.
See here look number two in my new series of 5DAYS5WAYS: The Boyfriend Shirt. But as much as I want to talk about the whole shirt thing, obviously I am slightly obsessed with this at the moment, I have another matter I need to discuss… Later…
Okay come on then, a little note on the boyfriend shirt, because it is my best find of 2014 so far. Let me take you back to Paris, February this year. A gorgeous Greek girl and a blond one from London shared a hotel room. Upon arrival my beautiful Evangelie asked me if I had a shirt with me, and I said 'YES'. Hurray for some sort of stupid language barrier because when I opened up my suitcase and happily handed over my shirt, it turned out to be a t-shirt, and not a white SHIRT. There my Greek beauty almost died, as shirts – men's shirts – are an absolute must. Early rise and leaving in a hurry made her forgot one, but normally she wouldn't go anywhere without her men's shirts. Borrowed from her husband preferably. Me on the other hand – until then – only wore Thomas' shirts in the bedroom, but that was about to change. From that moment I promised myself to take that sexy morning look with me throughout the day and keep his shirt on every now and then…
Okay… there we go… as promised, my dilemma, my problem: MY HAIR. As much as I liked it when I went all platinum, as much as I dislike its current look. The feel is fine, it's slightly dry, but I like that beach edge to it, so please don't worry about that. Moroccan oils and a little bit of love, make us overcome those dry ends. No, what I am talking about is its total look, ON ME! I am so not happy when I look at myself on the photos. First I thought it's just too much blond, I have to go back to a little depth and bring some low-lights to it. Then I thought it's its length. I know you guys loved it when I cut my hair shorter, and some even say I have to go shorter – sorry never gonna happen – but I miss my long sexy hair! I sometimes even miss my ombre. The thought that ombre is still my thing even crossed my mind… What do you think? Shall I go back, shall I stay platinum? Or shall I add some colour… Low-lights, or maybe even a funky lavender. Gosh, much advice needed! Fire away guys!
Psst… Looking for more shirt inspiration? Check out my edit on Cash & Rocket blog today!
Photos by The Urban Spotter

YOUR THOUGHTS
Highlighted