JIMMY CHOO & RAY BAN
Posted on April 29th 2013 by THEFASHIONGUITAR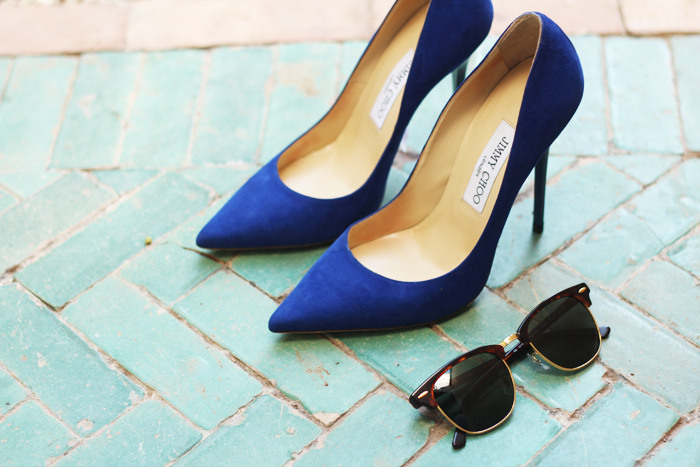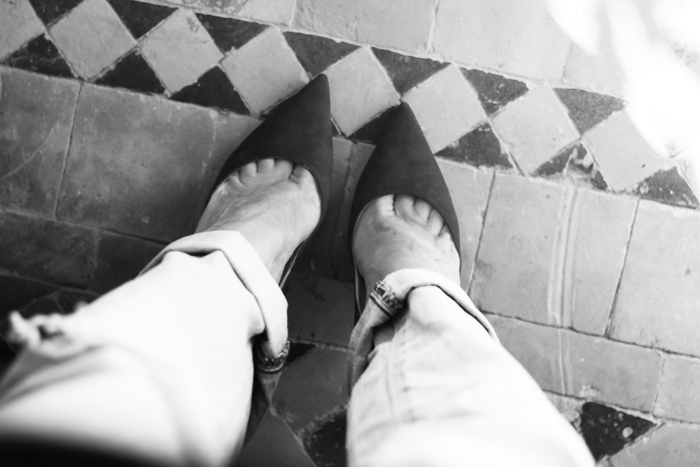 There is no airport passing by without me going into a sunglasses shop and trying on the latest editions of Prada, Miu Miu, and good old Ray-Ban. Up to an annoying point for Thomas, cause he is absolutely 100% sure that I have enough sunglasses, in which he might has a point, but for me "never enough". Hence this classic design from Ray-Ban, the Clubmaster (only the name already made me love the sunglasses), couldn't be left untried… And the moment that I put it on was the moment I realised this was my summer 2013 pair of sunglasses: light, sophisticated, and very retro.
Something very far away from retro are these Electric blue heels by Jimmy Choo. There is definitely some practice needed to walk with them, but I am very willing to put some hours into it. I believe pointy heels will never go out of fashion, not even when round-nosed are 'it'. For me they will always be the most sexy shoe in the world. How I love the toe-cleavage LOL. I know for some of you this is a reason for not buying a pair of heels, but for me, that cleavage is closing the deal very certain.
A little update from Marrakech: Yesterday we went to Jardin Majorelle, where Yves Saint Laurent bought the big blue house in the middle of this botanical garden. Absolutely worth a visit, but keep in mind, something I always forget, many people pay a visit to these kind of places, hence, no peace and quiet, unfortunately. After the gardens we did a city walk through the souks all the way round until we came to the world-famous Place Jemaa el Fna. The biggest square of North Africa, with the dancing snakes, henna ladies, and plenty of food. We had lunch at Le Foundouk though. This is a little 3 storage building with a rooftop, which was closed because of the weather (it was cloudy), but the open roof kind of gave the outdoor experience. The food was delicious, and the decor really pretty. Absolute must-go! After lunch we bought some Maroccan couscous bowls, beautifully hand painted. Of course we still paid way too much, even after bargaining… But I always feel so sad to give them so less… Anyway, great day, but very happy to be back in our green oasis. The city of Marrakech is an experience on itself, but the air pollution quite overwhelming.
YOUR THOUGHTS
Highlighted