Posted on June 26th 2012 by THEFASHIONGUITAR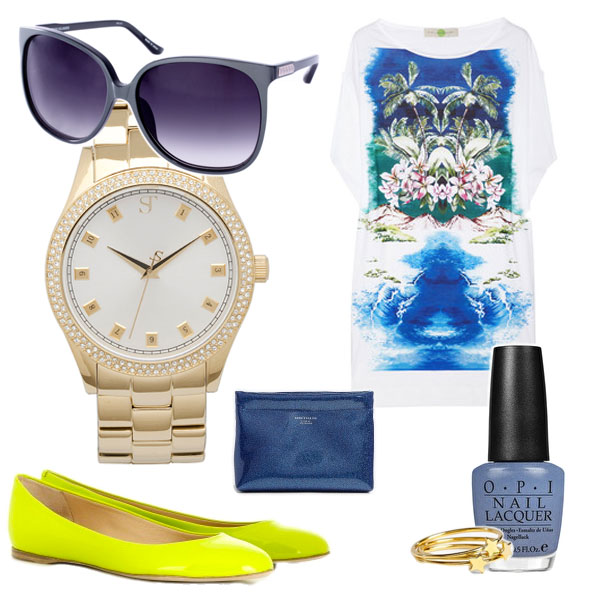 This time of the year you would expect to wear the above look, WITHOUT thinking IF it might be a little too overdressed for this weather, or whether you have to wear a jacket with it… But fact of the matter is, these expectations are way to high. We know by now it is NOT possible to wear the above without a jacket, because YES it is a little too cold for it, and the brights make you feel overdressed. Too bad, cause it is officially summer. So what does one do in this situation? You do as I did yesterday (see here), you pretend it's summer and just go for it!
The dress in this look is one from Stella McCartney and is VERY high on my wish list. I love the mirrored print big time, but I am still not sure whether I should spend this money on a t-shirt/dress. What do you say? The flats in neon yellow are definitely a must-have. Amazing pop of color in EVERY look, and definitely gives you a summer-vibe. And so does this nail polish in denim, did you get this color yet? In line with stacking bracelets, I bring you stacking rings. These cute stars are cute when worn by one, but even cuter when you stack them. Lovely, aren't they? Going ahead with a little posh (good contrast with the t-shirt/dress) I think a (fake) gold watch goes very well on a slightly tanned skin. It screams glamour, but not in a tacky way, especially when worn with the oversized sunnies. I am still looking for a nice new sunglasses for this summer, but I have the feeling this could be the one! A small clutch to carry you phone and keys, not something you can miss out on. Plus, clutches are easy and light carriers, exactly what we want during summer, as we don't want big heavy bags bruising our shoulders!

Keep calm, and keep pretending. I am sure summer is around the corner!