HOW I LIKE TO SPEND MY SATURDAY MORNING
Posted on June 10th 2017 by THEFASHIONGUITAR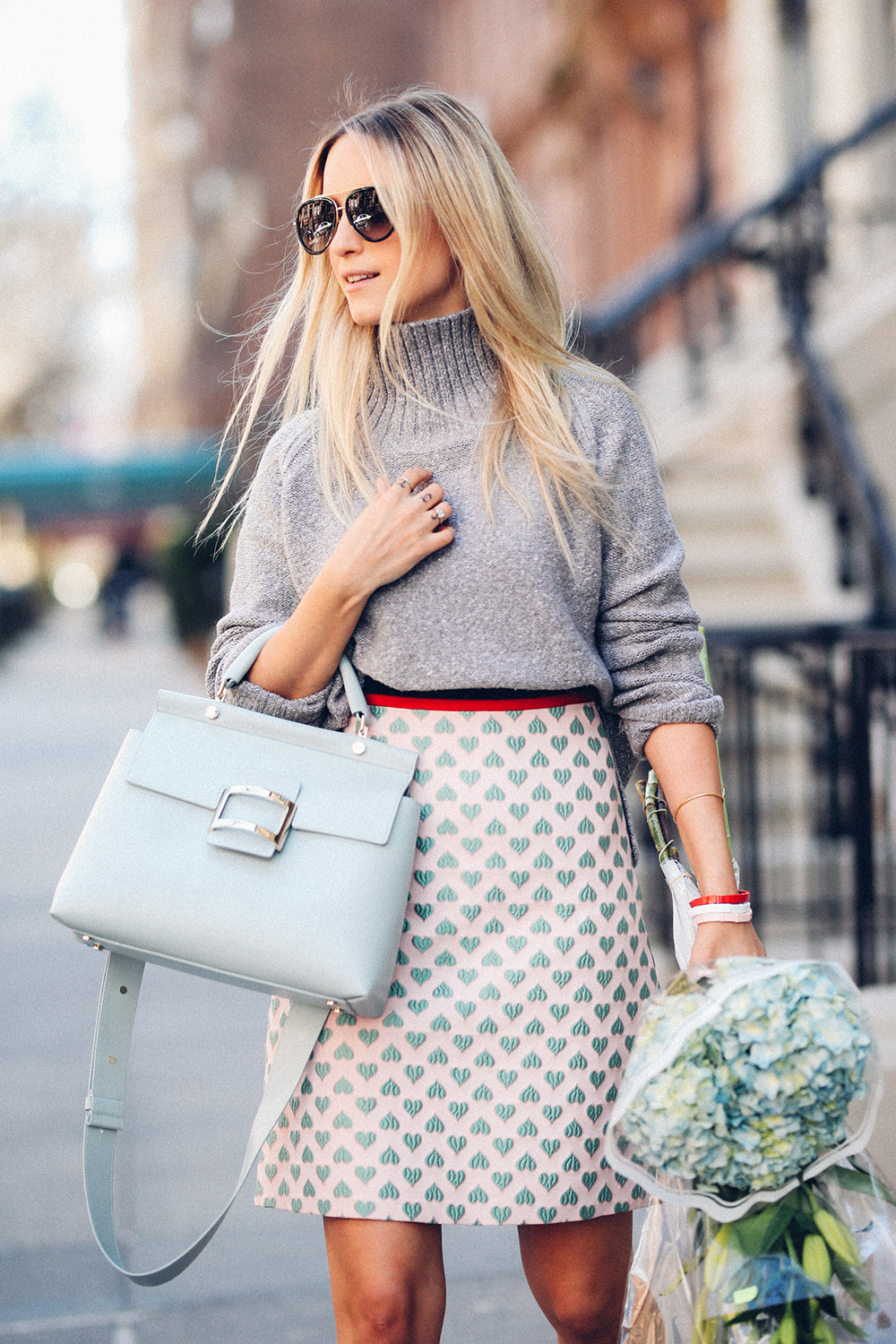 It feels like I'm starting a lot lately with "since I became a mother" and "motherhood, wow time flies", but in reality, that is my reality! Because "since I became a mother" my life got shaped in such a different way; it shines through in everything I do. Now you all know me quite a bit, and you know I'm not necessarily appealed to becoming a mommy-blogger. Not because I don't like it, on the contrary, there are so many inspiring mothers, who's blogs I follow almost obsessively, but for me it's always been, and always will be about fashion. Though, I get the feeling you guys would love to know more about me and my life as a working mother in New York, a loving wife – I do my best – and of course, as being ME. So without losing the aspect of fashion out of sight, I started letting you into my life a little more… I shared sensitive words about my insecurities, what motherhood means to me, and all the "clichés" around it. And so today's post is about my ideal Saturday morning! Our kids made me routined, almost to a level where I feel – you wouldn't notice – I'm not flexible anymore LOL, but truth is, not only the kids function so much better when our routine is in full swing, I am too…
A perfect Saturday morning for me is simple, and pretty much the same every week – giving I'm not traveling, or we don't have any visitors. I love how our little family of four thrives on it, and makes us smile all day long! Of course there's a great look that comes with it, but my new Roger Vivier bag, nor this forever favorite Gucci skirt don't really matter in the process. So, here's how I love to spend my Saturday morning:
I get to wake up on my own pace
Regardless of our endless little arguments, Thomas is 100% the best husband I could wish for. He knows me so well, and he knows – especially after the whole

thyroid cancer chapter

– how much I need my sleep. Family life and work are extremely demanding, and 9 out of 10 times I feel like I have to split myself in half to get it all done. A social life I don't really have, but luckily my work involves a lot of social activities, and so it happens I made amazing friends in the industry, so it feels often less like work and more like fun. Anyway, I need my sleep. So that one hour more I get in the morning – from 7AM to 8AM when Thomas is already building Lego planes in the living room – is everything to me. It gives me time to wake up on my own pace, which is the secret recipe for a non-grumpy-wife. My kids would never notice my grumpiness, but Thomas… well as I said, he figured me out.
Home-made coffee
Not only did I read somewhere that "women who have their sh*it together" make their own coffee at home, also it happens to be one of my favorite things to do. In summer I make a cold brew, in winter I make the best bone dry cappuccino. I really made it my thing, and in my sunny morning kitchen I truly get the most happiest feeling when I smell my own brew, while the sun warms my face… It's those little things in life right?!
Breakfast with the kids
Usually it's Thomas who makes the kids breakfast right after they wake up, but he waits for me to jump into the kitchen. We always make jokes that my love for him truly goes through the food I make. On James' request it's buttermilk waffles with raspberries, little Stella is a little bacon monster, and Thomas loves anything I put in front of him. And I do my best, I try to improve my cooking very seriously. He would love for me to start writing a cook book, or just open a restaurant… I guess he feels the love I feed him :) So the kids go for breakfast round two, and Thomas and I make the table, prepare the food, and we sit down to enjoy a happy morning.
Fresh flowers
We can all agree, fresh flowers in the house make life so much better. So on a Saturday morning, after I have taken some time to unbox new pieces – how cute are these Roger Vivier heels – I go to the flower stall around the corner and get whatever flower is in season. I get a lot of inspiration on bouquets from Instagram. I love it when it's a mix of different colors and types, and it feels like I've been flower picking…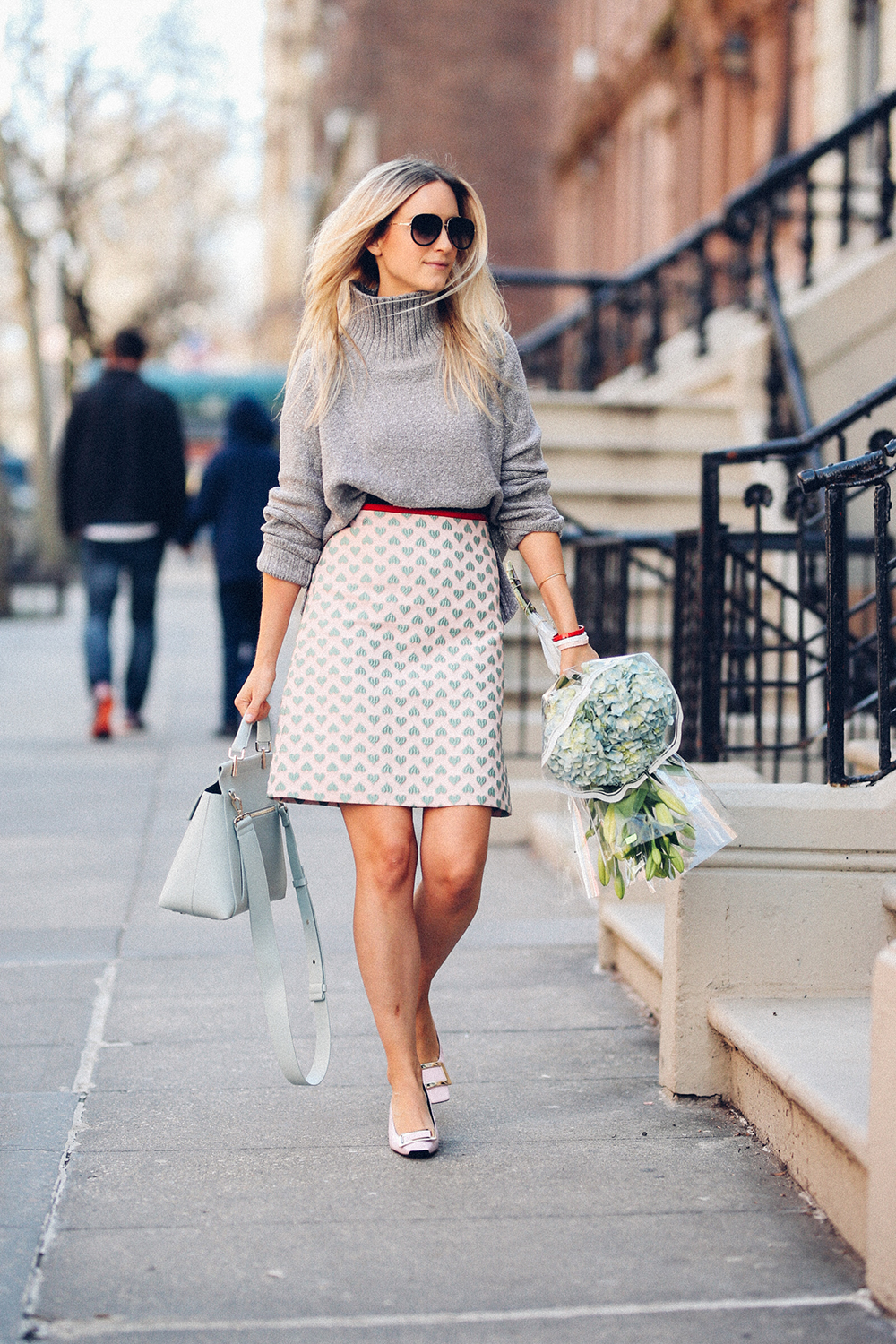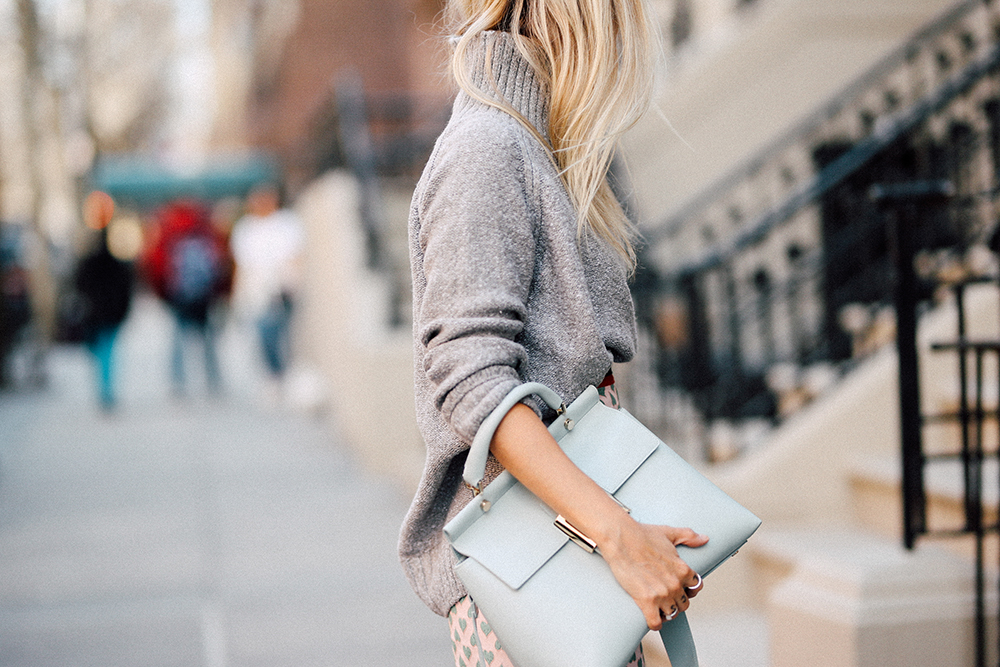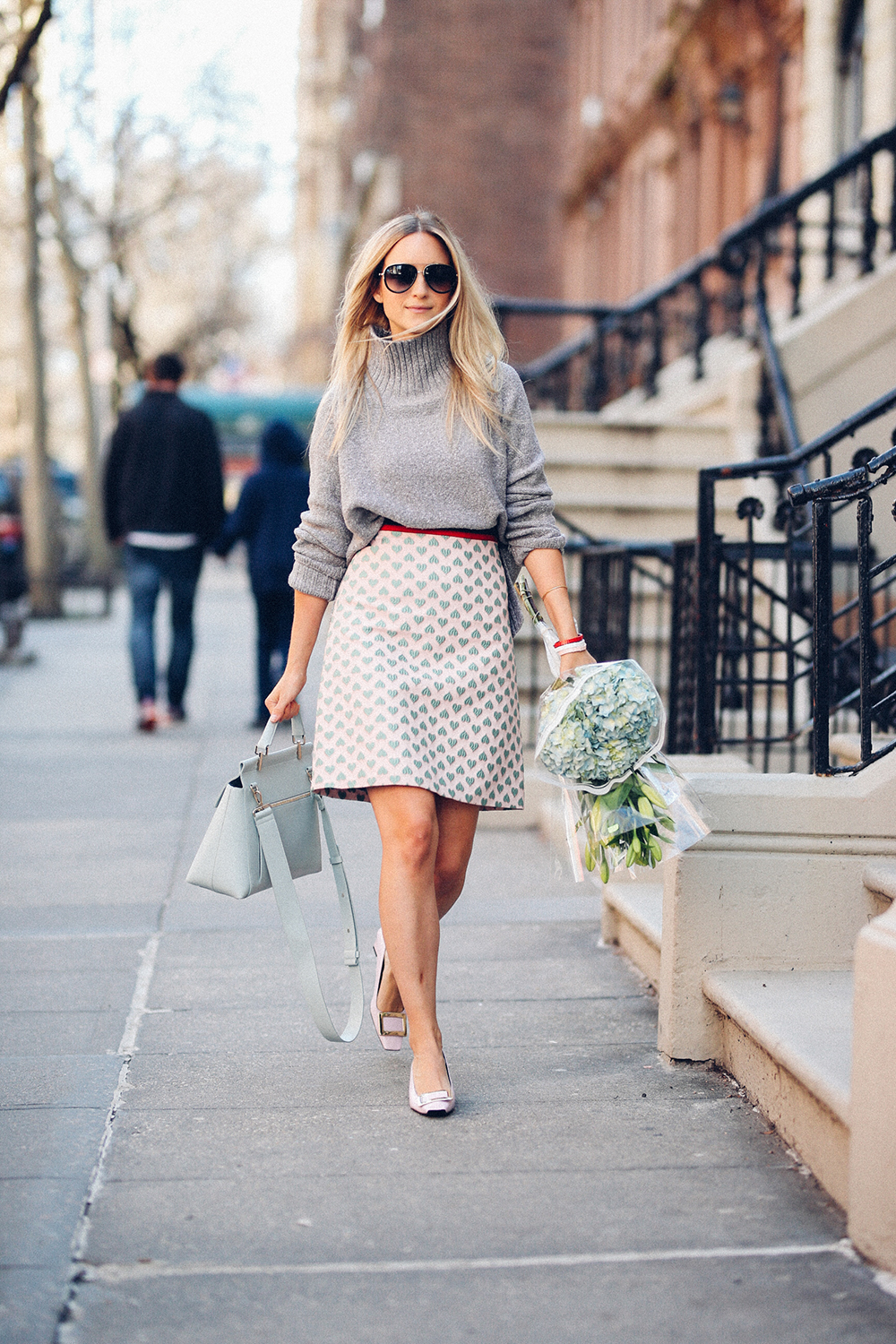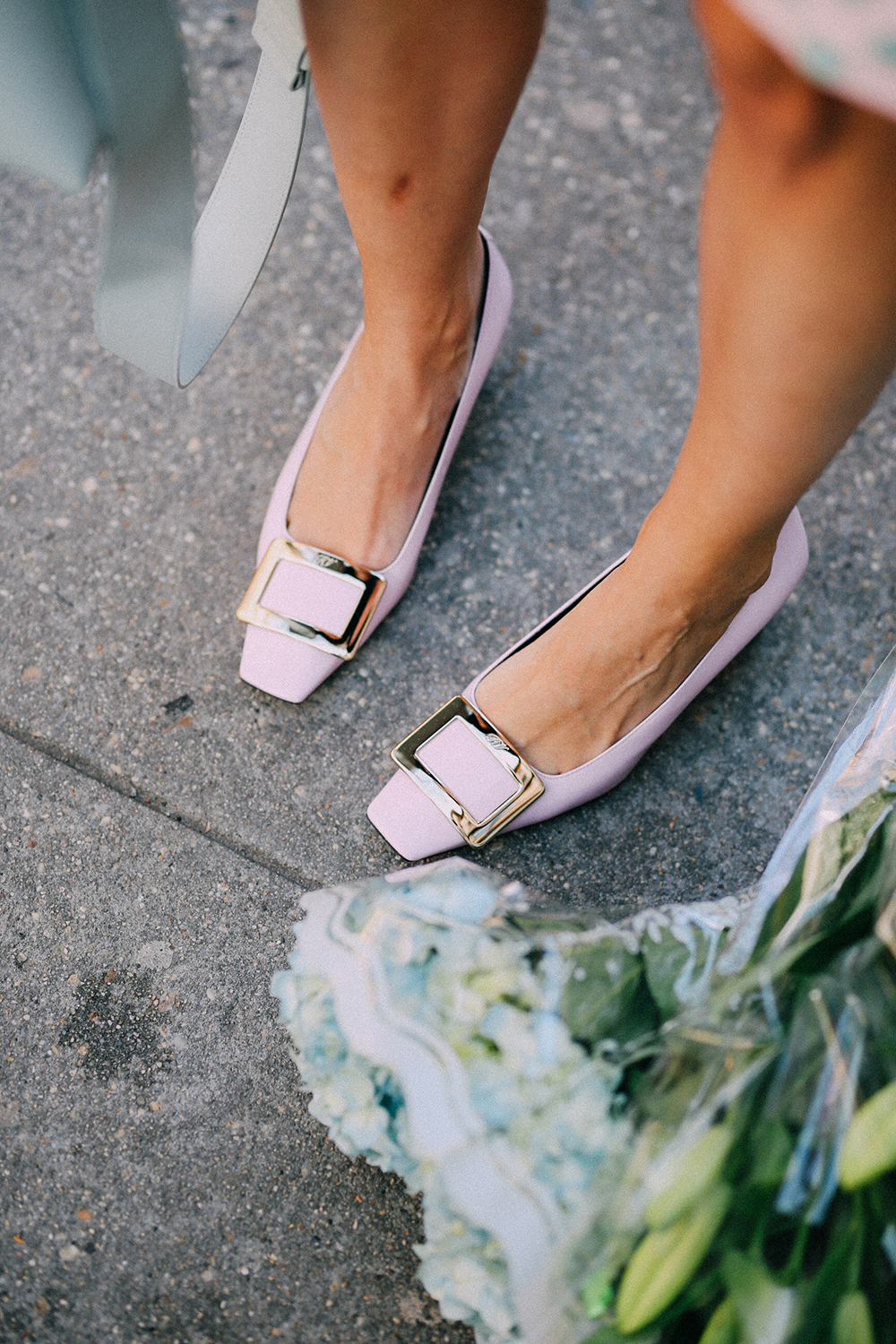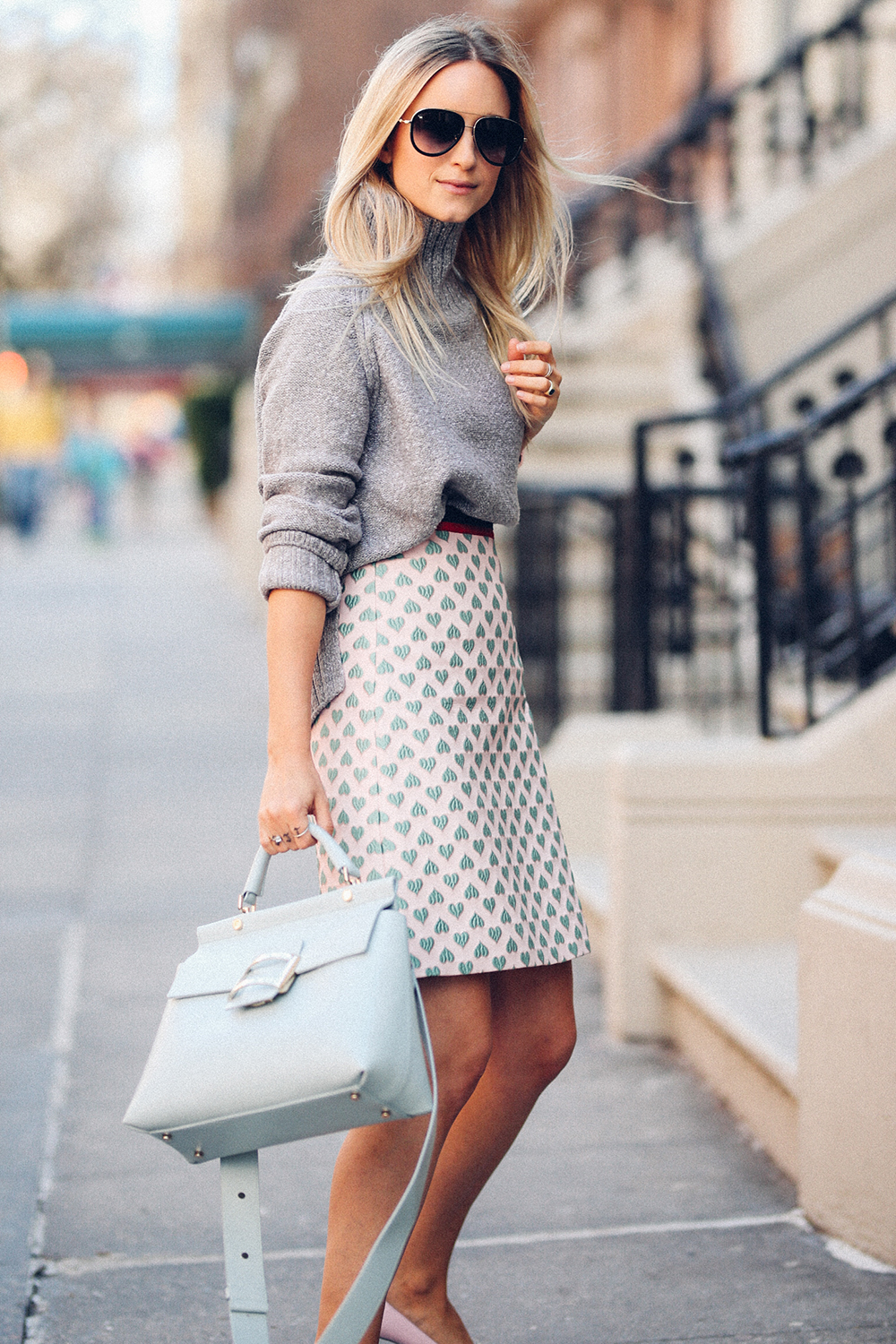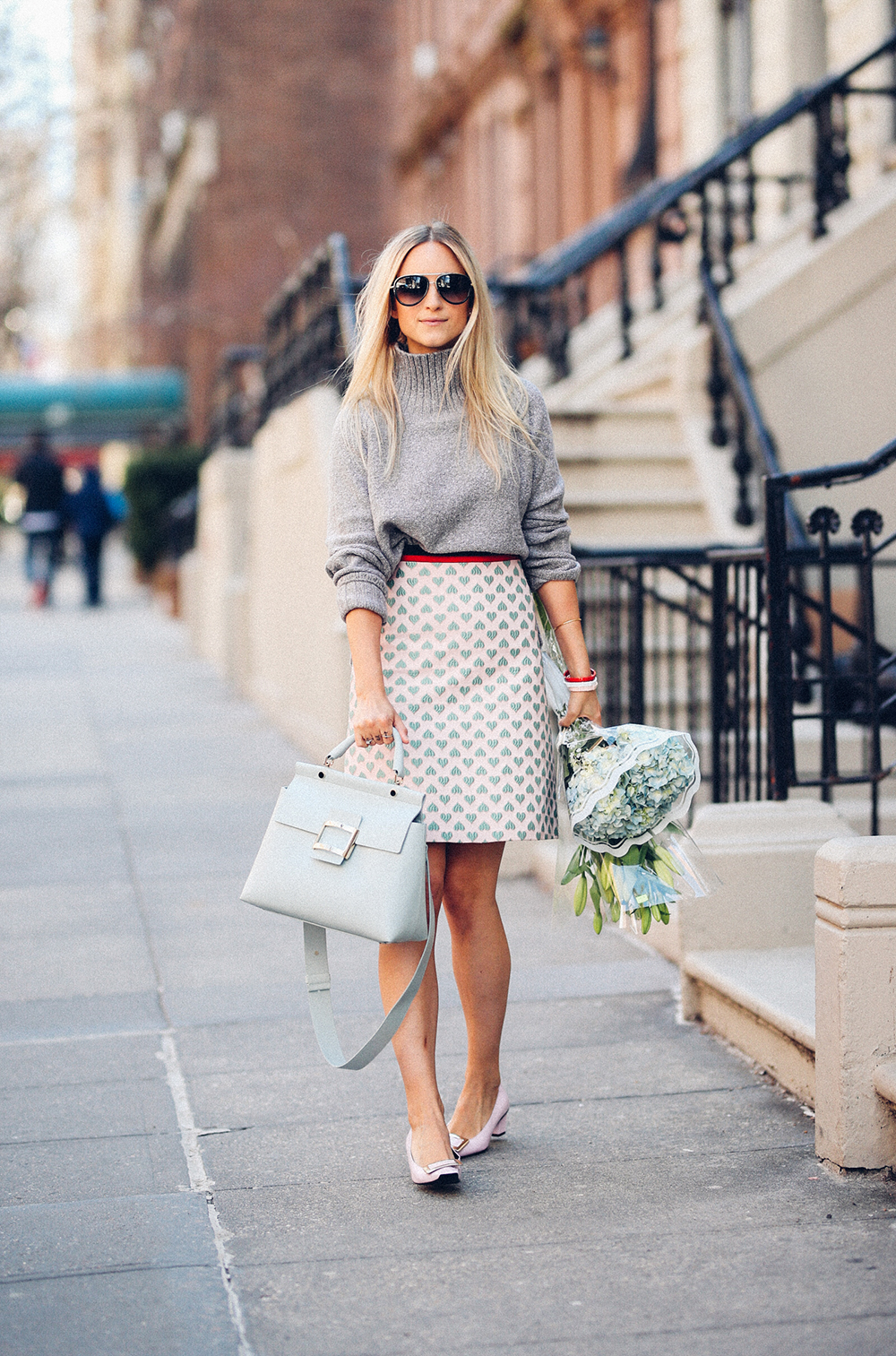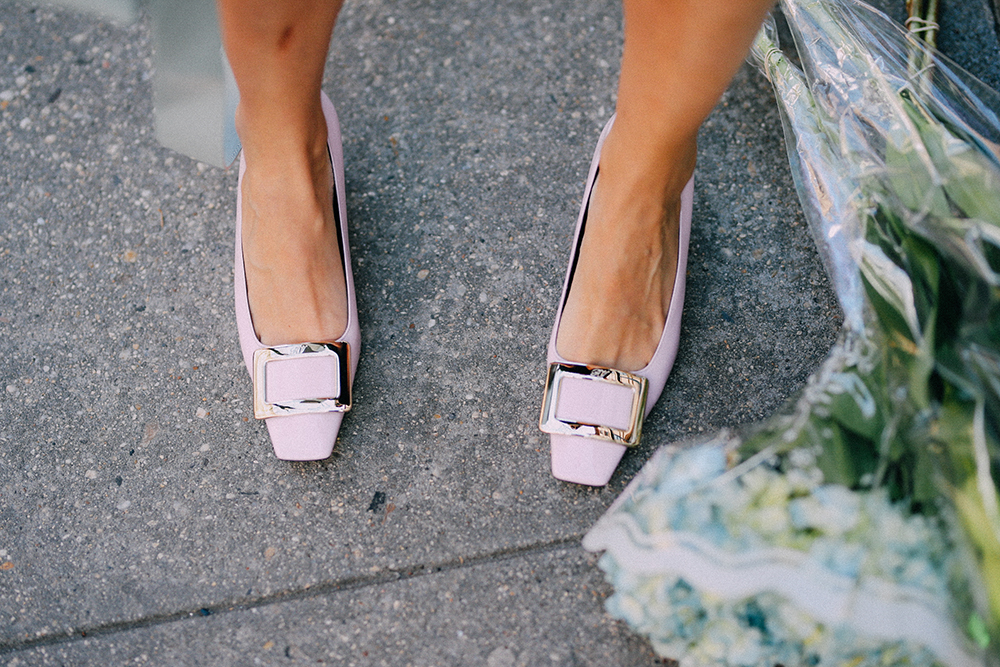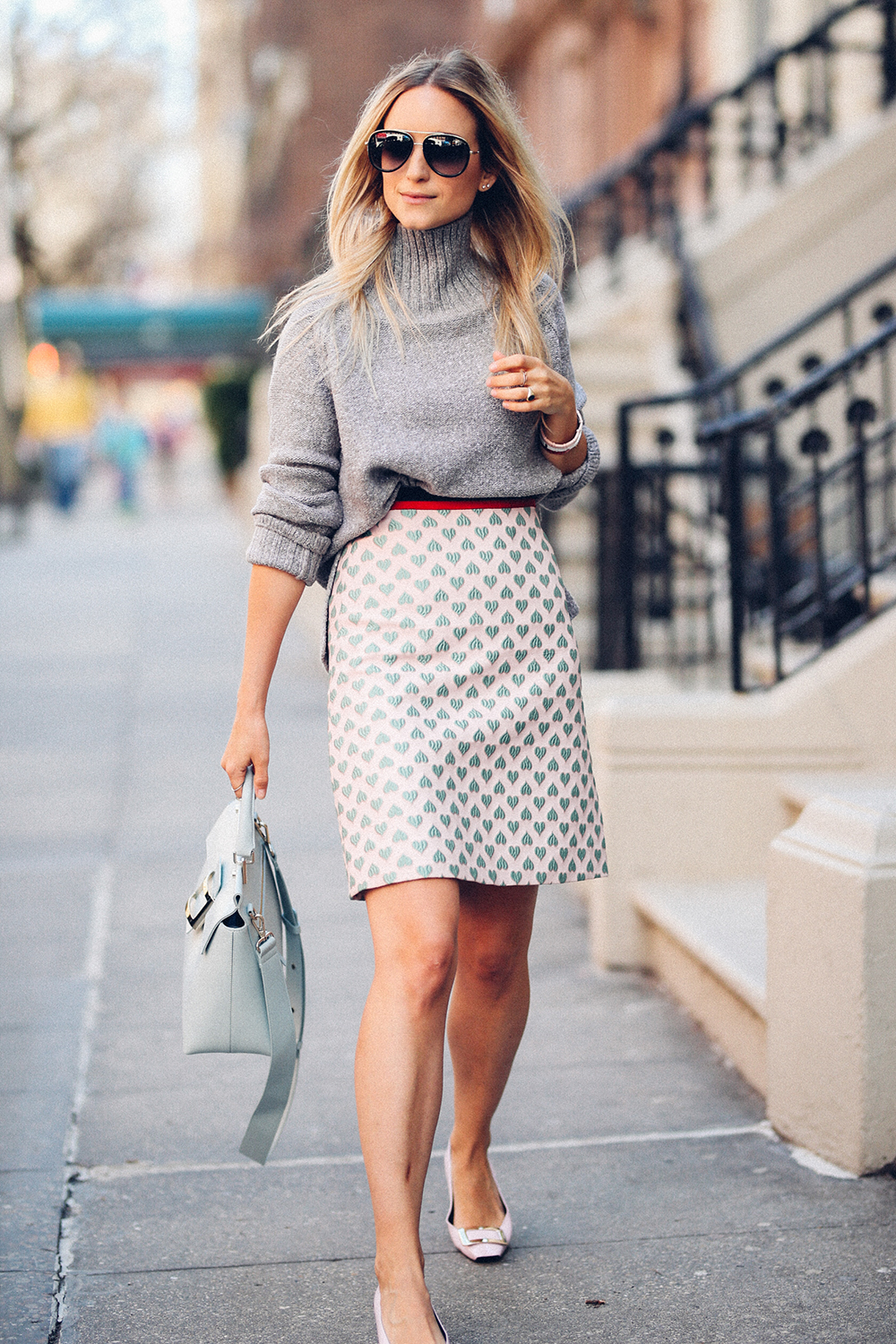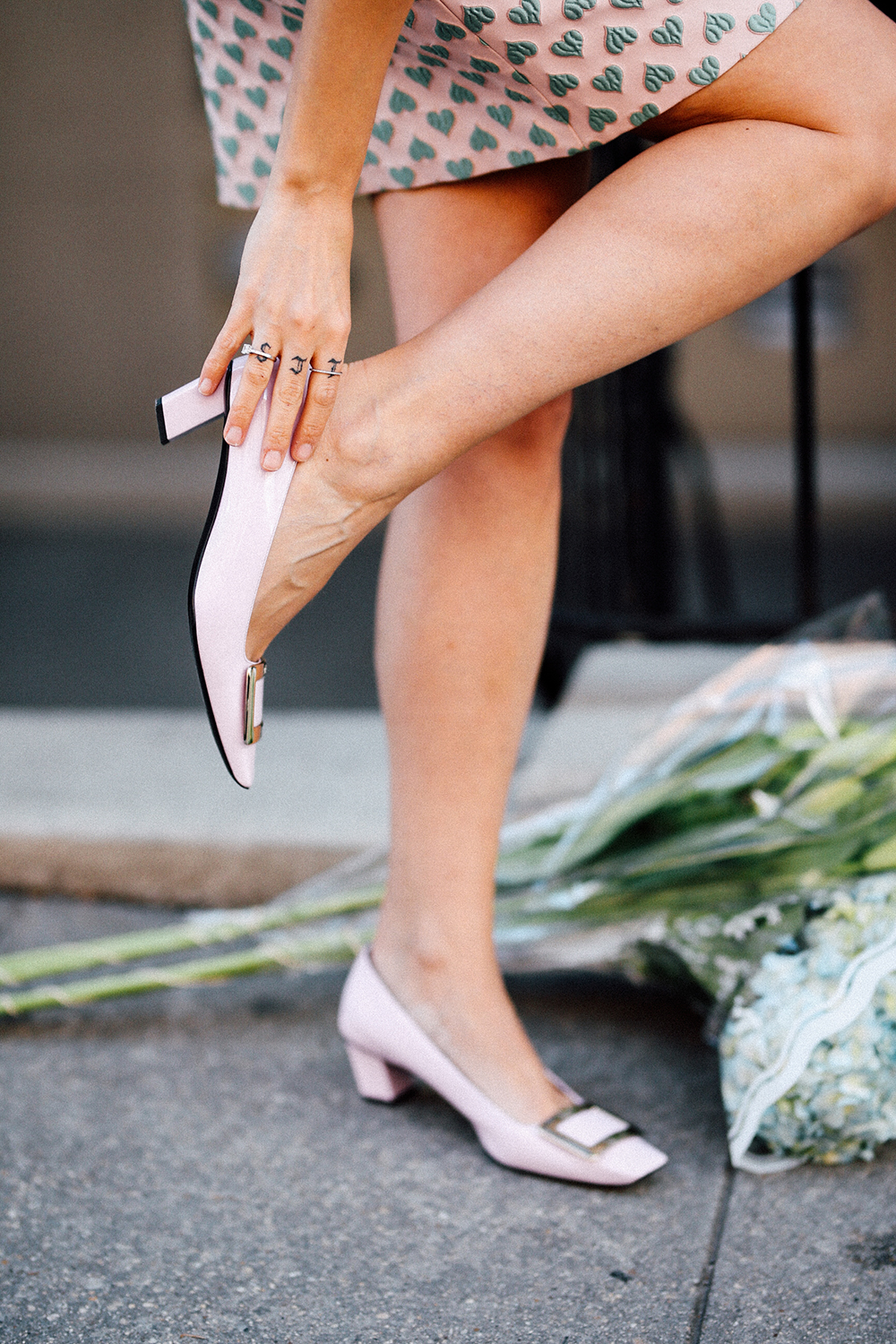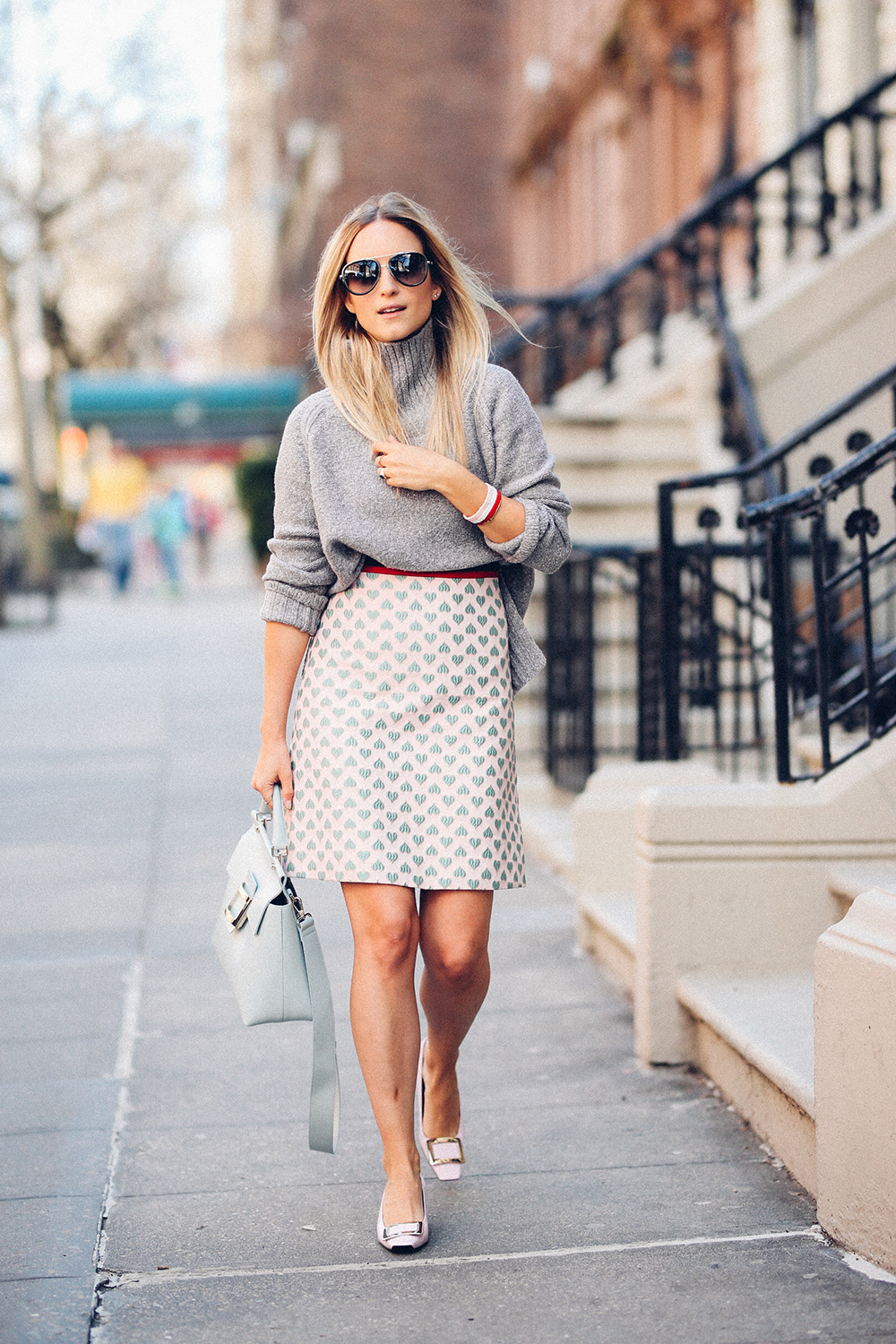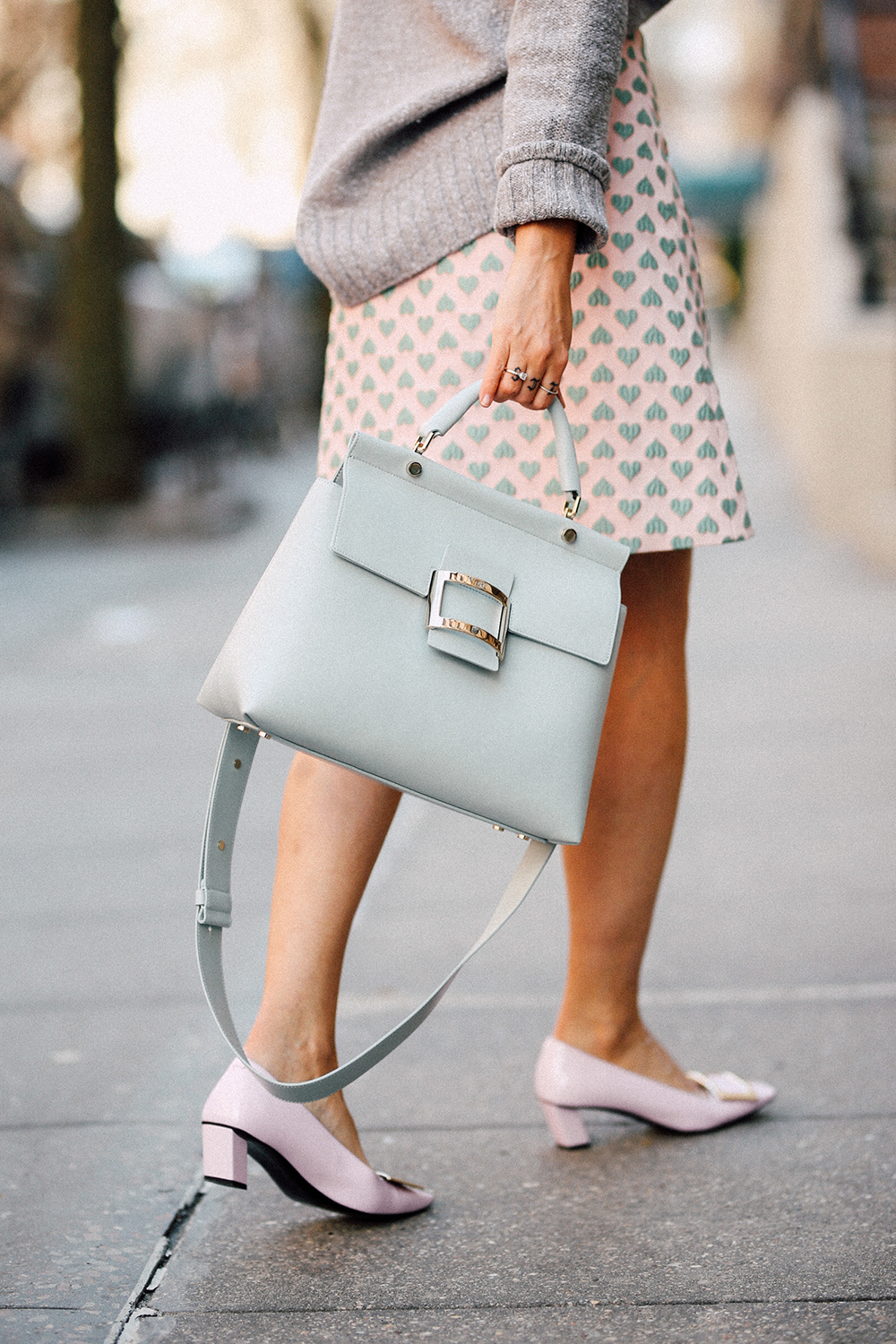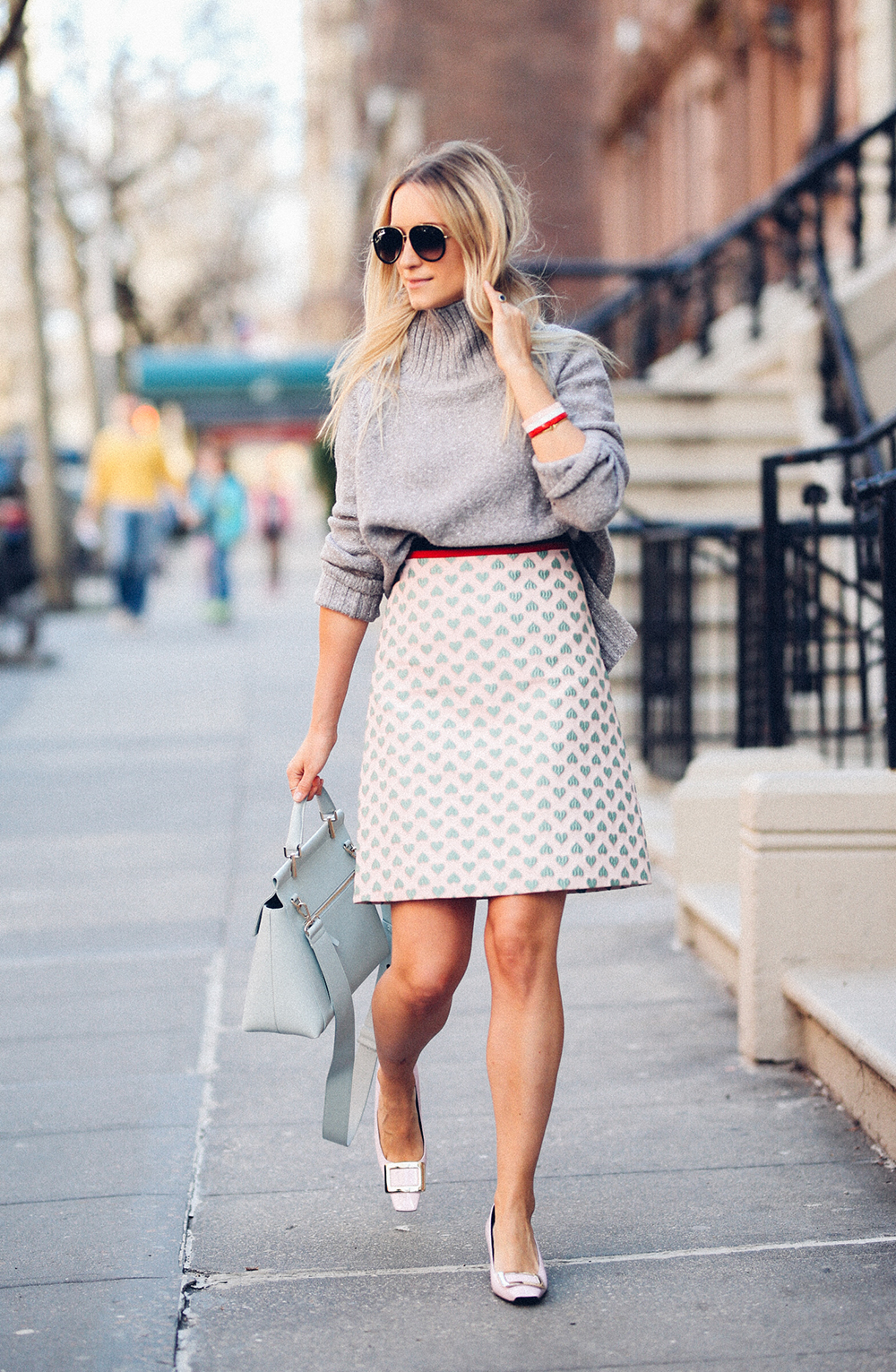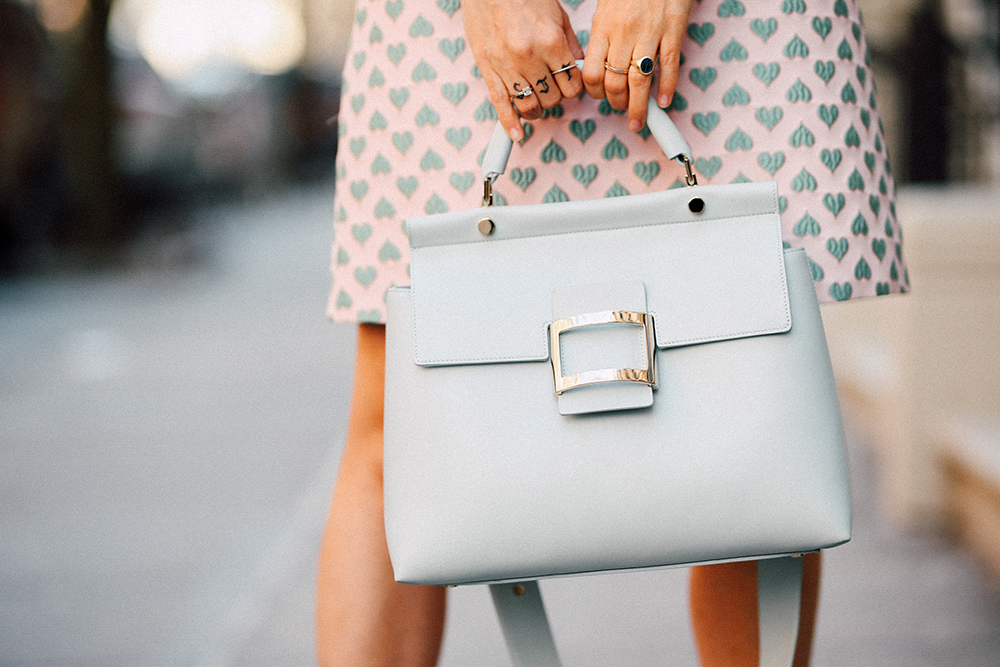 H&M knit (old) | Gucci skirt | Roger Vivier bag | Roger Vivier shoes | Gucci sunglasses | Roxanne Assoulin bracelets.
Photos by Jeff Thibodeau
YOUR THOUGHTS
Highlighted