WINTER IN MIAMI
Posted on February 7th 2015 by THEFASHIONGUITAR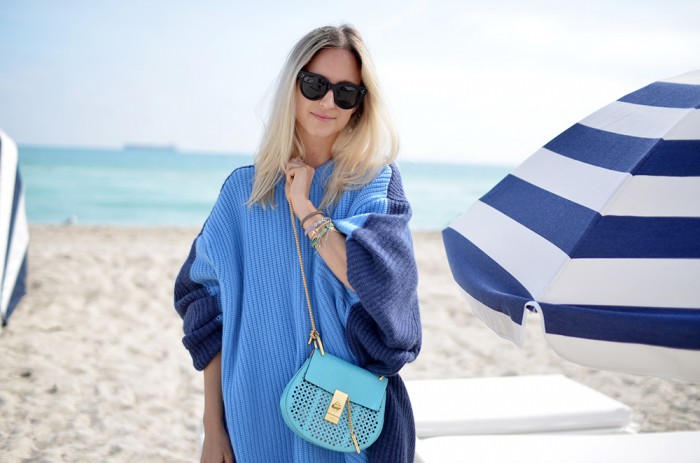 Last December I went on a lovely family getaway to Miami, then January came and one of my friends – who also happens to be an amazing PR girl –  asked me if I was up for a different Miami experience… No kids, a boutique apartment with one of my favorite New York blog friends, and hosting a few events at some of the hottest spots in town. If I were up for it? Of course!
Highlights of this trip were definitely our stay at an amazing boutique apartment from Oasis Collections and hosting the Fashion for Breakfast event – in collaboration with Style Saves – at the Soho Beach House. As for the apartment, I must admit that my previous experiences with staying at an apartment while being on vacation weren't exactly luxurious nor boutique-ish, but this just exceeded my wildest dreams. Breathtaking views, very well decorated, and super spacious – especially when you're just with the two of you, like we were. Yes, staying in such an amazing apartment was a little dream coming true… This is where you want to yet off to during cold winter months; a piece of heaven just 2 hours away from freezing Manhattan.
Location-wise not too shabby either. With our busy schedule it was the perfect fall out to all the places we had to go to. Around twenty minutes to Wynwood – where we tried JugoFresh for lunch, checked out those crazy cool Wynwood Walls, and hosted a styling session at MVM Miami – 30 minutes to Sunset Drive, and not even ten minutes to the Miami Beach EDITION Hotel and Soho Beach House.
All together a great stay in a very different way than I'd done before. A very luxurious way, which you might want to save for special occasions such as your honeymoon, or anniversary. But if you like to splurge a little anyway, then I could definitely recommend trying it sooner than later!
In collaboration with Oasis Collections
YOUR THOUGHTS
Highlighted