HOW I DYED MY HAIR PINK
Posted on September 18th 2014 by THEFASHIONGUITAR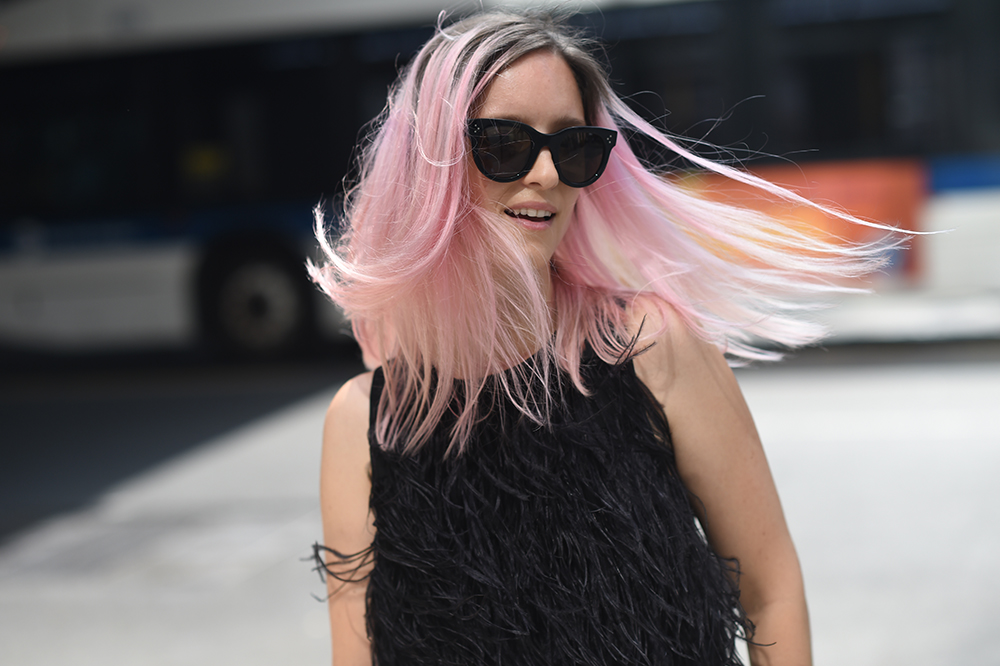 Three weeks ago I went for a hair-consult to my new hairdresser in the Meat Packing district and we made a plan. However, I could only get my hair done the week after NYFW earliest. Sh*t! Obviously I didn't agree with my big roots – neither did at least half of you – so I had to do something radical… Something to drawn the attention away from the roots… And ever since I made my hair platinum I wanted to do something like lilac or grey, maybe even a pastel pink. Yet I never had the balls to do it. But when "worse comes to worst" you grow balls…
So, I asked my sister to bring here wash-out hair colors from Bleach London. She brought the Rose and Bruised Violet. Although I wanted the pink more than the violet, I ended up using the violet because there wasn't enough of the pink left to get it done even everywhere… I did my own way, meaning I ignored the appliance guide on the bottle – Bad. I knew it was risky, but it couldn't get any worse than it already was, plus, it was a wash-out thing, so in case it turned out to be really bad, I was ready to wash my hair a 100 times… Or use my sisters wash-out shampoo – also from Bleach London.
I went into the shower, made my hair wet, poured my regular shampoo in one hand, and a good drop of the violet color in the other. Mixed the two in my hands and started washing my hair as I would do normally… When fully soaped, I turned off the shower, timed 10/15 minutes and rinsed my hair. Done, with an amazing result of this pastel pink color. I couldn't be happier.
Important though, if you buy violet thinking you will get a lavender/purplish color, you have to be ready for a little different outcome. Perhaps it was the way I applied it – mixed with my regular shampoo – or because I didn't leave it in long enough, but evidently it's not violet much. It does say something about the Bleach London wash-out shampoo quality, but not everything! I can still recommend it, was and am more than happy with the result. Just be warned…
Last but not less important, my hair was platinum when doing this. If your hair is a different color than platinum, I don't know what the outcome will be. Moreover, proof that it doesn't work on dark blond hair are my uncolored roots.
Details of what I'm wearing are listed here.
Photo by Jason Jean/Citizen Couture
This is not a sponsored post! I wanted to share my experience with coloring my hair pink, because many of you asked for it.

YOUR THOUGHTS