SUMMER JEWELRY
Posted on June 23rd 2014 by THEFASHIONGUITAR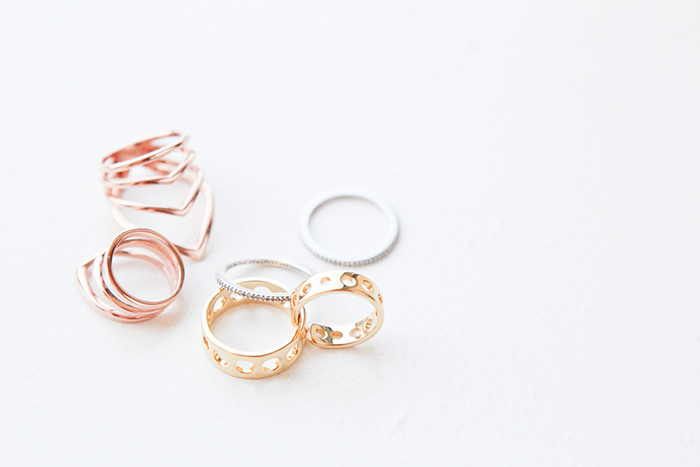 I don't wear much jewelry, but everyone who's seen me recently must have noticed at least a few of these rings. I literally sleep with them, that's how much I love wearing them – not exaggerated, I have prints in my cheeks in the morning. So I wear the thin diamond bands on my left middle and index finger next to my white gold engagement ring – which is not in this photo unfortunately. Then on my right hand I either wear the rose gold rings on my middle finger, and the small one on the upper part of my right index finger. Or, if I feel like wearing yellow gold, I wear the two bands with the little holes in it. Both on the same finger.
Mix & match different styles and metals is the way to go forward. The elegance of the diamond bands in contrast with the armour-like style from the other rings is beyond. I think we all need to up our game when it comes to jewelry. Invest in a few really nice pieces. I only recently started doing this and I tell you, it does makes such a difference. They shine – don't stain on your fingers – and stay in excellent shape.
Just so you know, I wasn't paid to say this I genuine love my rings and couldn't resist sharing this beautiful close-up with you.
Arme de L'Amour yellow gold rings // Arme de L'Amour rose gold rings // Monica Vinader diamond bands.
YOUR THOUGHTS
Highlighted