#EMPIRESTATEOFMIND
Posted on April 14th 2014 by THEFASHIONGUITAR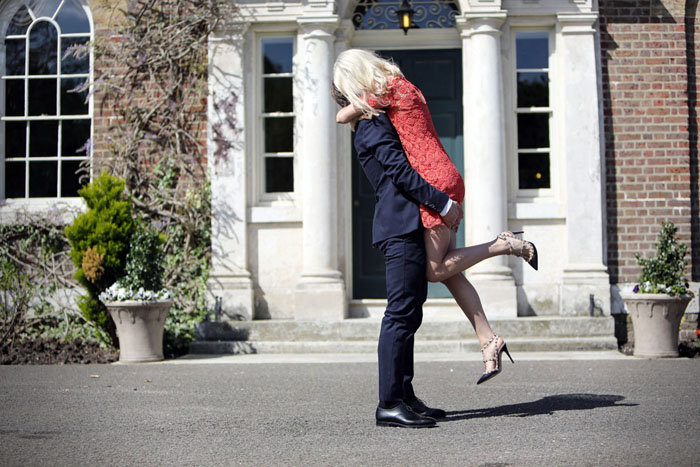 If you want to know what really happened last week, and what will happen to me and you the coming weeks, make sure you read the complete story…
I noticed that some of you 'got it' and some of you didn't become aware of what really happened last week. Others thought by seeing my instagram photos over the weekend that something happened in Amsterdam, others realised I was only part of someone else's big day. But nothing is less true, well I was part of someone else's big day over the weekend, but just before we took a plane to Holland – which we almost didn't make – we also had our big day… but in the most tiniest way possible…
In a little red dress I said yes. Yes to extending our already 10 years together, and two beautiful kids. I said yes to the most amazing man in the world with whom I cannot imagine spending any second apart. However, saying our vows was quite a sudden thing, time wise speaking. Of course we were going to get married at some point between now and a year or so, because as you know I got engaged a few weeks ago, but becoming Mrs. last week already had another, more practical, reason… Though I must tell you from the heart, secretly, it's really cool it already happened, so the fact that we are moving to NEW YORK CITY came with SO many amazingness!!
Yes, you are reading it right, we are moving to NYC! And besides the fact that this is a dream coming true – can you keep a secret? I've never been to New York before – it will be insanely cool for me and my family, and for me and you. I will take you along with me on this amazing adventure, which almost feels like taking a boat and going to the new world to build a new life. However, we are leaving a lot behind, again. But that is what we signed up for. It's what we expected to happen, and we have a lot of help from a lot of people. I will have to leave amazing people behind in London, and leave my Dutch friend still living in Holland even further behind… Not to begin about my family who I miss so much, and will only miss more by getting a bigger distance between us. BUT, let's be honest, am I not the luckiest girl in the world. A dream like that coming true is a dream on itself, and as I said, I can't wait to share our journey with you!
With this having said, I can't wait for the day we will celebrate our wedding with everyone close around us. This mini wedding was the best thing to start getting excited about planning our 'big day'. That white dress will come, together with all the cool things we already have in mind for our BIG day!
Photo by The Urban Spotter / Hair & make-up by Tania Grier

YOUR THOUGHTS