LESS SPARKLE, MORE SHINE
Posted on December 27th 2013 by THEFASHIONGUITAR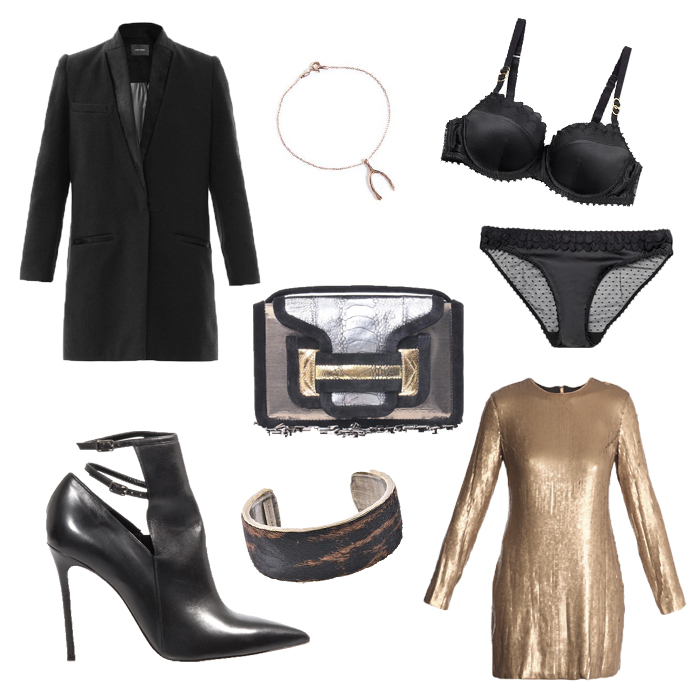 What to wear for New Years Eve? I know, I have that issue also, every year. So here are some suggestions to make it easier this time round!
Isabel Marant tux blazer // Aamaya by Priyanka wishbone bracelet // Stella McCartney bra // Stella McCartney brief // Gianvito Rossi ankle boots // Pierre Hardy bag // Isabel Marant pony hair cuff // Diana Von Furstenberg dress.
Before I start with my New Years resolutions I am afraid that once again I am going to exceed my shopping limits. Sale has on me – as on most of us I presume – a certain natural attraction. Though I left behind those days where I bought items just because they were on sale. I now tend to think before putting items in my shopping basket, and I tell myself I should shop more in terms of looks rather than single items. I mean, one single items can be as cool as Christmas, but what if it appears it is not going with anything in your wardrobe? Yup, it ends up in a dustbag, far far away in the back of your closet. A waste of money, even if it was one sale.
So my end of year resolution is the above – if only I had a unlimeted shopping budget of course. But if you can't have it all – as in my case – I am pretty sire these items are on itself easy to blend in into any wardrobe.
YOUR THOUGHTS
Highlighted