A NIGHT WITH RIHANNA
Posted on September 11th 2013 by THEFASHIONGUITAR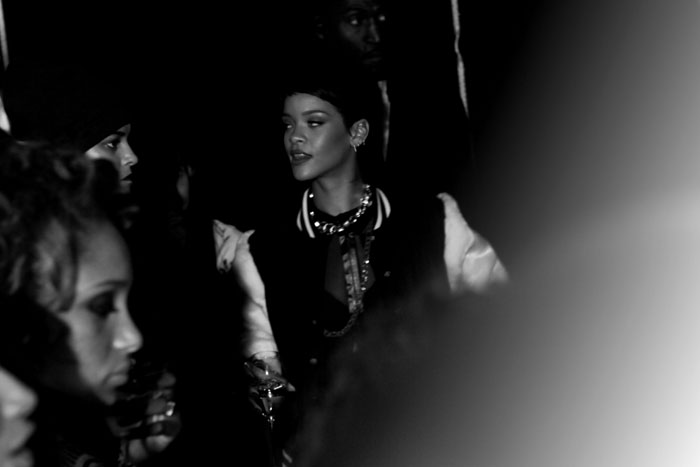 'Meeting' Bad Gal Riri is something to die for, as a true Riri fan would cry. And by 'meeting' I mean waiting for Miss Riri to show up whenever she thinks is a good time – duh she's Riri – rush up the escalator away from dying fans…
and decide to come down two hours later for a 'chill-session' surrounded by models and champagne. I know, this sounds quite off-putting, but it were my actual first thoughts while standing there, squeezed in-between press and real fans, at last night's private event at the River Island store on Oxford Street, where Rihanna's new collection for River Island was presented.
A handful of people had the chance to attend the event, so I won't be disgraceful to the hand who fed me, but it was such a bizarre evening that I still can't decide if I liked it or not – and then I am not talking about the lovely company of Dutch press who I was with. It was just that by seeing Rihanna, I also got to see her hysterical fans, the sweating and unfriendly security, and the changing atmosphere when it all took longer than expected, which made me think about what an out of the ordinary life she must have – duh… Imagine if this was your life, like seriously, would you call it a life? Life as you know it, would be totally impossible. Grab a quick coffee next door without security around you? Not possible. A moment of piece when going for a walk? Never. Will you 'go for a walk' anyway when you are Rihanna? How does that work? Anyway, my thoughts were spinning, trying to think how it would be… I don't know. Can I judge? Can I say if I would like it or not? Not really I guess, because I have never been 'on the other side'. Yet I have the feeling I won't be able to cope with it… One surely must, other than that huge talent which  actually made you rich and famous, have some kind of talent to be able to handle this all. I believe no media training, nor simply the 'experience' will ever get you used to it…
Anyway, back to Rihanna's new collection for River Island: G4life aka Gangstah 4 life; Her life-motto, her image, her style. I must say that even though this gangster-style isn't really up my street, I quite liked the collection. I love the idea of a baseball sweater as a dress, big camo beanies, and the chunky chain-necklaces. It's obviously very much depending on the way it's styled – all the way G4life would be a bit too much for me – but I am sure there are girls out there who are able to totally rock an all-Riri-look. One thing I really didn't like, and I never ever expected their return, were the 'Timberland-heels'. Remember those? Well, I do, and I have never understood these shoes, and those who wore them… but then again, who am I to judge? So I won't any further. I will leave it up to you to decide what you think about Rihanna's collection. Though I am really interested in your opinion… Share!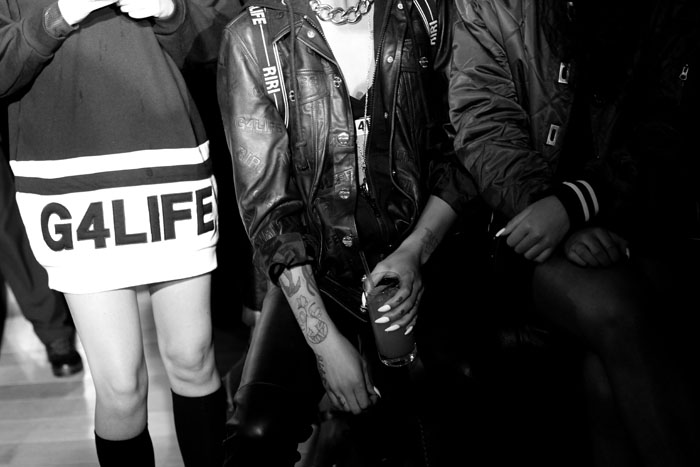 YOUR THOUGHTS
Highlighted