A MICHAEL JACKSON IMITATION?
Posted on September 4th 2013 by THEFASHIONGUITAR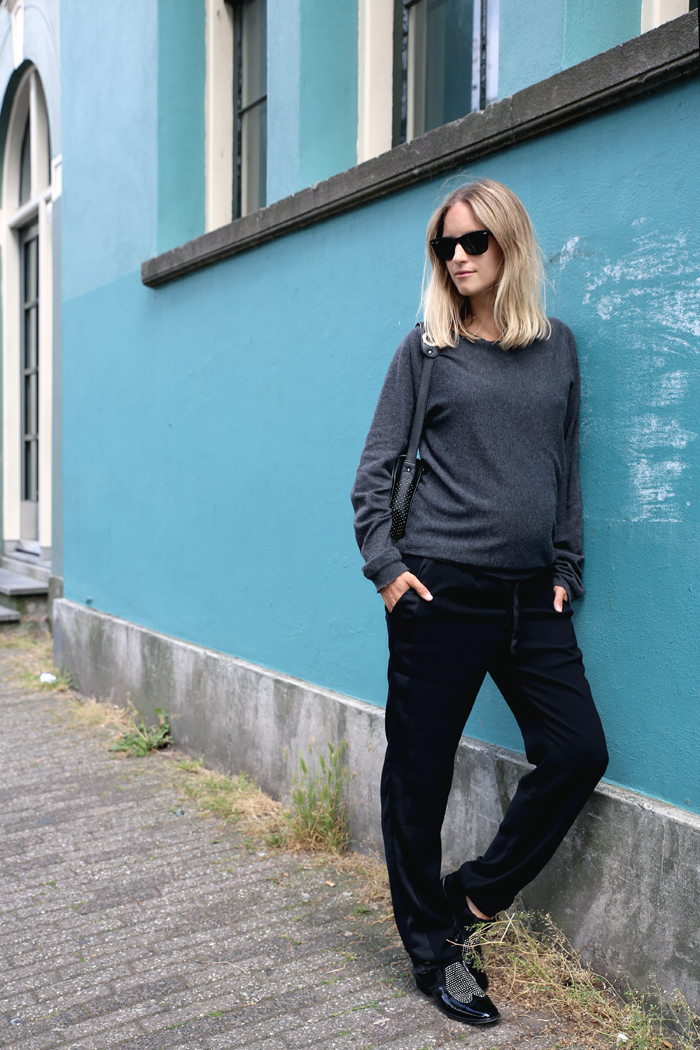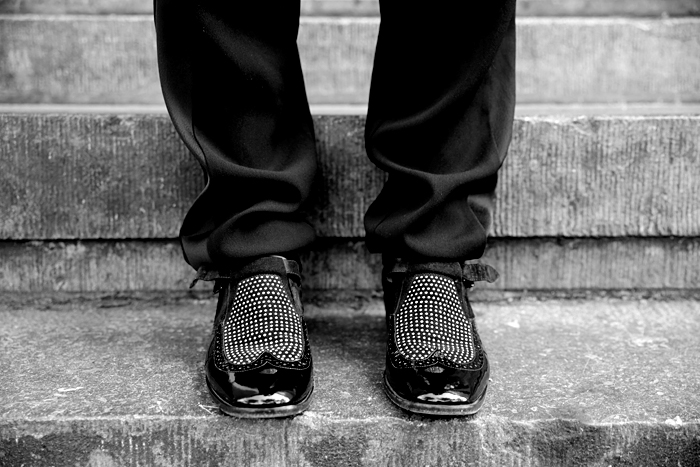 Photos by Sabrina

Okay not really a Michael Jackson imitation, or it would have been a very lame one since the only thing in this look that screams Michael Jackson are my shoes. And they do, don't they? When I saw them the first time, I immediately dedicated them as my Michael Jackson impersonators. I am sure he had a pair like these in his wardrobe, next to all those cool cropped military jackets that my wardrobe lacks… Hence this über casual (or boring, whatever you might call it) look, pimped by some legendary feet.
Talking about feet, I am having this ugly pregnancy-issue with my feet: they are SWOLLEN. It's ruins all the fashion week looks I've planned so far. Though, maybe it is a good thing that those looks are ruined due to the fact that I can only wear trainers with them (I literally only fit in trainers at the moment), because when I was reading Man Repellers' blog yesterday, I realised she totally hit the spot with her article about 'What to wear during Fashion Week'. In my case, most of what she's saying in this article is true, which has given me the spirit to just let it all be and see what happens during day one. For that day I have a look; it's cool, it's comfy and it's eye-catching (and it could work with trainers). After that, I will probably have tons of inspiration from street style around Somerset House (or even before that, from all the hot ladies at NYFW), which makes me able to go through my wardrobe again and select from current pieces ("all in my size, and all immediately available", sorry for stealing this Leandra, but I just loved that line). Anyway, the only problem I have in comparison with Leandra is that she has in fact a lot amazing designers on her rails, I don't. I mean I have a shitload of designers shoes (yes I know, I am a lucky girl), and bags, but when it comes to clothes, I don't. I find it hard to invest in designers clothes, because I always tend to go for the statement/seasonal pieces, as they are just SO COOL, but then again they are SO UNCOOL after one season, hence not wearable anymore. Shit, why am I always falling for those pieces… Anyway, I guess I have to take more lessons from the style-queen herself… or alternatively, keep using Zara as my drug to stay high on the latest trends!
Jimmy Choo Bay shoes, Jimmy Choo Rebel bag, ASOS peg trousers, Rag & Bone knit (similar here), Ray Ban Wayfarer, and Tom Wood rings.
Win a Kenzo iPhone cover & Shop my wardrobe!
See more looks from Thefashionguitar for Jimmy Choo 24/7 Stylemakers
YOUR THOUGHTS