ANN-SOFIE BACK
Posted on June 6th 2013 by THEFASHIONGUITAR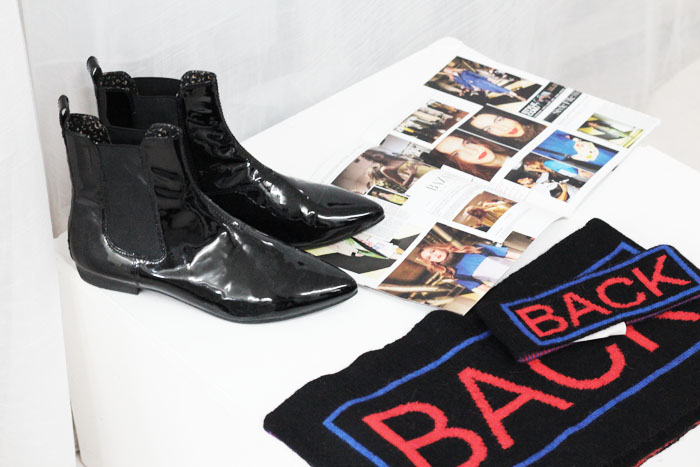 When in Stockholm last weekend, I visited a few Stockholm based designers, and one of them was Ann-Sofie Back. In all honesty, when the meeting was planned I had to do some research, cause I wasn't familiar with this designer (even though she showed at London Fashion Week, where I myself was as well). However, immediately when seeing her latest Lookbook, I knew I wanted to see the current and Fall/Winter 2013 collection with my own eyes, in her studio. So I went.
A little background: Designer, and stylist/fashion editor for Purple magazine, Self Service, and Dazed and Confused, Ann-Sofie Back, originally from Sweden, did her Masters in fashion design at Central Saint Martins (London), where she graduated in 1998. Before she launched her own label, she worked for Acne Jeans (looking at her choice of fabrics, textures, and colors for her last two collections make me totally understand this combination), and in 2009 she was appointed joint creative direct for Cheap Monday. Something you might know her from are her capsule collections for Topshop. Personally I have missed this, such a shame, but I totally see this combination as well, especially with her line Back (a second, more affordable line).
Ann-Sofie has, as her PR girls explain to me, an imaginative approach to fashion. You wouldn't immediately tell when seeing the collections on hangers (in my case), but looking at her shows you get this point. She takes something 'ugly' (e.g. work-wear, zombies, pornography) and turns this into something desirable, something you would want to wear. Recently Columbine Smille styled a few of her S/S13 looks and was shot for their campaign.
When I first saw both the S/S13 and A/W13 collections, it took me a little while to have my imagination work out some looks, however, when selecting my favourite pieces and trying those on, I more and more understood why this label works so well (and I more and more felt ashamed I didn't know this label before). The combinations of leather (with and without studs) and simple t-shirts, the all white-looks, the mesh details, the checked shirts, the knits, the cow-print, it's all made sense to me, and it all made the desire to own her pieces grow.
For me it's a dream finding out about this label, and that's exactly why I wanted to share this with all of you who didn't know Ann-Sofie Back either. Make sure to check out her website, or just start shopping…

YOUR THOUGHTS