THE ATLAS MOUNTAINS
Posted on May 17th 2013 by THEFASHIONGUITAR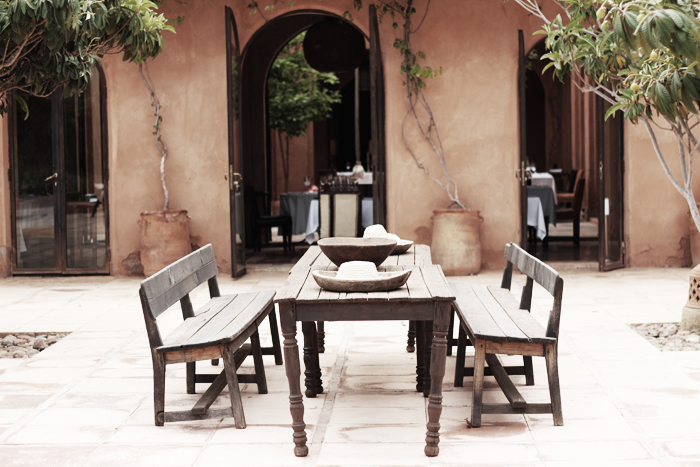 Up in the Atlas Mountains in Morocco you find the traditional build Kasbah Bab Ourika, where we stayed the second part of our trip to Morocco. It's an approximate one-hour drive from Marrakesh, which brings you from massive imperialistic resorts, through traditional Berber villages, to the peace and quite of these beautiful mountains.
Home-grown fruit and vegetables, traditional furniture and decorations, and 100% peace and quite, all mixed up to one amazing boutique place. A place where you can have the perfect yoga-experience, romantic honeymoon, or family stay. And whilst the environment is taken in consideration with every single thing in and around this getaway, from the building-phase to the actual exploitation, it still lives up to your every expectation of a boutique hotel.
We were a bit unfortunate with the weather though, because the first three days were cloudy and a little cold. I hear you think "this would definitely ruin my stay"… well it did ruin my initial expectations upon arrival, but pretty quickly I realised this place had enough to offer on days that were not eligible for sunbathing. For example the different areas such as the library, the bar, and the reading room all had a high fire-place, which were of course used to keep the spaces warm one days like these. You can't imagine how romantic this was. Whenever James did a nap, we found ourselves curling up on the benches next to one of the fires and reading a book. I couldn't remember the last time I did read a book… And especially since this place offered WiFi, but only in the entrance area (a good and a bad thing since it forced me to 'relax' but could be turn-off for some people), I had no other choice than do all other things than working/updating you! I must admit, it would not really go with the spirit of the place to have internet everywhere, but as I said, it could be a no-go for some of you.
And then the food. Oh my god. Organic turns me on, home-grown make me get warm inside, but I did not expect the food to be that good. It's clear that they have a very good chef in the kitchen, one who knows how to bring the traditional Moroccan kitchen to you in many different ways. The flavours were amazing, and I have never eaten so much vegetarian dishes, simply because the vegetables tasted so good. One of my favourites on the menu (which changed every day) were the soups. All kinds of vegetable soups, one even better than the other. Not to mention the tajines… I guess you just have to go and taste it yourself, I simply can't describe it.
Another big plus when you stay in small places like these, is the level of service. This comes in handy not only when you want a bottle of your favourite champagne upon arrival of your honeymoon stay, but also when travelling with a one-year-old. As we can speak from experience. Every day the staff asked us what we wanted to have cooked (yes they cooked it separately, and upon request) for James, for lunch and dinner, and when we wanted to have it served. Too bad James is too small to understand and appreciate this, or maybe it's a good thing, but anyway, what I want to highlight here is that this is as well a great place to stay when you have little ones.
So let me make it simple for you; when you travel to Morocco and you are in the Marrakesh area, MAKE SURE you go at least for a few days to the Atlas Mountains and stay in of the Kasbahs there. Of course I would recommend you to go to Kasbah Bab Ourika, simply because I had the best experience, was totally overwhelmed and fully pampered. And don't worry about what I said about the weather, because I got my day at the pool where I catched up on the missed sun. Just pick the right time, and you will have a beautiful boutique hotel, sun, and best food ever, all in a traditional way, up in the mountains of Morocco!
YOUR THOUGHTS