LE PALMERAIE MARRAKECH
Posted on May 8th 2013 by THEFASHIONGUITAR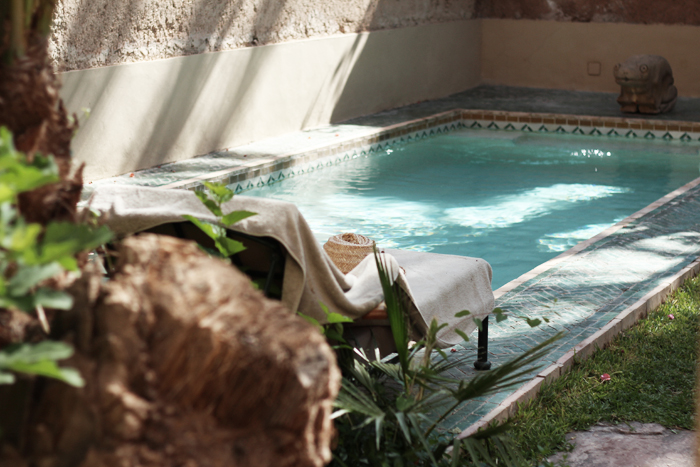 There are numerous places to stay when you visit Marrakech. Beautiful hotels, like little hideaways, in the Riads, or hotels tucked way in the oasis of green just outside the city walls, in Le Palmeraie. When looking a nice place to stay, it's easy to drown in your options, hence I want to tell you a bit about  the place where we stayed the first part of our trip to Marrakech. This magical place, Les Deux Tours, is a place I can absolutely recommend you to stay when you go to Marrakech (with or without kids).
Les Deux Tours is the place to stay if you are looking for a boutique hotel, medium scale, and not far from the airport. It's located in Le Palemeraie, which is most probably the greenest area you can find in/around Marrakech. It's an absolute dream on itself, very very green, which is quite contrasting with when you go more towards the city of Marrakech, where it is all sandy and not too much green. I think it's the best area to stay, especially when you travel with (little) kiddo's. Maybe without kids we would have considered staying in one of the many beautiful boutique hotels Marrakech city has to offer, but we didn't find that a really option at this point. Plus it's very, very nice to come back to this green oasis after a day in busy Marrakech.
It sounds cliché, but I haven't been anywhere before where the staff was so friendly, the scenery so pretty, green, and magical, and the rooms so beautiful. Every little detail added to this feeling; the candles around the pond at night, the day-beds at the pool, the romantic outdoor dining on the different patios, and the tasteful Moroccan decoration. I can personally really appreciate a well designed room, where people clearly have thought about what furniture is put where, where the closets actually do have hangers (little detail, but simply very nice), and where it's clean. Some people might say "why care so much about a room, you just sleep in it", well in my case, if I don't sleep well, the days after aren't that pretty. Obviously we've done other types of travelling too; low-budget, traveling from place to place, in those cases it was less important where we stayed, as long as it was hygienic. But these days we look more for the full package when we look for a holiday.
About our room. We had a little private pool which was perfect to wash off a day in the sun. However, the public pool is absolutely lovely as well. Never too crowded, and the water always the perfect temperature. As mentioned before, the room was very well decorated, but oh my god, one amazing piece of work they delivered with the bathrooms (one attached to the pool-area, one in our room): rain-showers, marble floors, perfect lighting. Another plus: there was even a little desk in our room, and super fast WiFi everywhere (and then I mean everywhere in the hotel), what could I ask for more?!
Little note when you travel with kids: We find it always terribly hard to find the right place to stay for a holiday, and this became even a tougher task when James came into our family. Now the place should not only live up to our wishes, but also be suitable for kids. Why? Well, first of all they have to be able to provide a baby bed, otherwise you have to carry one with you on your trip. This is possible, of course, but trust me, travelling light isn't an option anymore even with one toddler, let alone when you have more. So the least you have to bring with you, the better. Also quite nice when they have food, or are willing to prepare food, for little ones. Especially in their younger years you want to be careful with salt etc. and they eat on different times than we do. So ideally a hotel has to be kid-friendly in that way too. BUT, and there is the big BUT, when you look for kid-friendly hotels you end up with those kind of 'it's all about the kids' resorts, and that is not what we want either… What we want, hence what we were looking for, are boutique hotels, just as we would normally look for, but then suitable for kids too. They do exist, as Les Deux Tours proves.
YOUR THOUGHTS